Blac Chyna, Future Kardashian, Is Now Sporting Mermaid-Blue Hair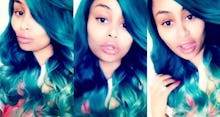 Blac Chyna has built an empire on glamour and eyelashes. She's amounted a massive following online, with nearly 7 million Instagram followers watching her every move. She's also single-handedly overthrown the Kardashian regime, becoming engaged to Rob Kardashian while simultaneously announcing her name change to Angela Kardashian. 
And now, she's become a mermaid princess. 
Blac Chyna posted a video on her Instagram on Thursday showing off her new hair, colored "aqua berry" blue. It's a striking change from the long brown locks she was wearing just before the swap and the ash-blonde look she previously rocked.
The future Kardashian offered no reason for the bold new look in her 15 seconds of pouting for the gram, so we took it upon ourselves to come up with a few hypothetical scenarios:
- She'll have a surprise cameo in The Smurfs 3.
- She and Rob are taping an episode of their upcoming Keeping Up With the Kardashians spinoff in which they swim with the dolphins and she reveals she is, in fact, a mermaid.
- She's passive aggressively reigniting her feud with Kylie Jenner by perfecting the blue-hair look the 18-year-old tried for a brief moment last year.
Nobody can be entirely sure what sparked the sudden change in looks, but we're absolutely here for it.
Read more: Rob Kardashian and Blac Chyna, a Young Couple in Love, Just Got a TV Show