The Reason for Prince's Sudden Death Has Been Revealed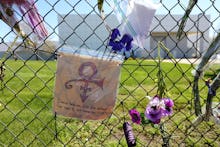 A law enforcement official has confirmed to the Associated Press that an opioid overdose was the cause of death for pop icon Prince, who died suddenly in his home in April.
A Minnesota medical examiner confirmed to the news agency that fentanyl, a powerful synthetic narcotic with a high risk for addiction, was the specific substance implicated in his death.
Following his death, reports that the singer had been abusing painkillers were widely circulated. According to the Star Tribune, Prince had been scheduled to meet with an addiction specialist to try painkiller abuse treatment just one day after his death.
Opioid addiction has become a growing concern in the United States in recent years. Mic has previously reported on the 1.9 million Americans in 2014 who "had disorders related to their nonmedical use of prescription pain relievers," according to a survey by the Substance Abuse and Mental Health Services Administration, and the recommendation in March from the Centers for Disease Control and Prevention that doctors exercise caution when prescribing highly addictive painkillers.
This story is breaking and will be updated.
June 2, 2016, 3:19 p.m. Eastern: This story has been updated.