One Statistic Proves Fetty Wap Is a True Artist That Hip-hop Will Be Leaning on For Years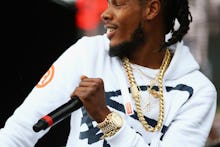 "Nothing but greatness is coming from this for me. I tell everybody, ["Trap Queen"] isn't even my best song. This is just the breakout for Fetty Wap. There's going to be a lot more coming." — Fetty Wap, the Boombox
Almost everything about Fetty Wap screamed one-hit wonder when he first emerged on the scene in late 2014. He had an addictive hook, a new piece of slang to introduce to radio listeners and a warbling club yodel that seemed like it would get tired quick. It hasn't. 
Read more: The Story Of How Fetty Wap Became Famous Will Make You Appreciate His Success Even More
Fetty Wap's newest song, "Wake Up," is a sleeper hit. Its chorus isn't as immediately as show-stopping as "Trap Queen" or "Again," but it's got some real stickiness to it. But that song's surprising strength, or the headline stir its marijuana-friendly video created, are not going to ensure a seat for Fetty Wap at the table of music's elite. One small note hidden in his biggest songs' liner notes will. 
In the liner notes of both "Wake Up" and "Trap Queen," and several of other hits, only one moniker appears: Willie Maxwell, Fetty Wap's real name. In a pop world where most chart-topping hits come out of huge writing camps and beat farms with rosters of writers longer than a football team, this is huge.
To put it in perspective, out of all the hits that made it into the top 10 of 2015's Billboard Hot 100 end of year charts, Fetty Wap's "Trap Queen" was the only song with one writer. 
Similar artists pushing Fetty Wap's melodic blend of hip-hop, R&B and pop — the Weeknd, Wiz Khalifa, Jason Derulo — all sport numerous writers on their top 2015 hits. Straight pop stars, even more. Taylor Swift's "Blank Space" only sorts three, but two of them, Max Martin and Shellback, are two of the most expensive and most ubiquitous hitmakers in pop history. 
Nineteen names had a hand putting together Kanye West's "All Day."
Maxwell's ability to write his way from Paterson, New Jersey, to the top of the charts has surprised even the most well-known industry critics. When Noisey asked John Seabrook, author of The Song Machine: Inside The Hit Factory, to name some of his favorite pop stars, he jumped to sing Fetty's praises.
"People think it's too far out there but that guy is a pop star. And he's a real artist," he said, describing him as "a real singer-songwriter in the old school terms."
A February 2016 article discussing Fetty Wap's unique solo writing credit in Music Business Worldwide, incidentally compared Maxwell to David Bowie, whose "Starman," "Life On Mars?" and "Rebel Rebel" all sport one writer in their liner notes. At this stage, Fetty Wap is far from the next Bowie, but he's already sporting at least some of the same singular vision.
A Noisey article attempting to digest Fetty Wap's meteoric 2015, stressed the fact that there were no big name producers on Maxwell's tracks either, one of the more common ways newcomers break into the industry. However, the publication noted "the true test" is still to come.
"The true test of Fetty Wap's talent will come when major labels inevitably begin seeking him out to provide hits for other artists," it reads. "There's a wealth of signed rappers who have some degree of fame and even rapping skills but can't write a chorus to save their lives, and when someone like Fetty Wap shows up with hooks to spare, they quickly become a hitmaker for hire. We didn't know how good T-Pain or Future was until they started cranking out choruses for the entire industry."
This may be how we see Fetty Wap popping up throughout the latter half of 2016 — in the liner notes guiding every pop/rap crossover through the perils of their debuts, or out of their sophomore slump. Talent like Fetty Wap's doesn't go out quietly.