Hillary Clinton Has Finally Shattered One of America's Highest Glass Ceilings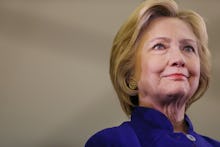 On Monday night, Hillary Clinton accomplished what no woman has done before her, becoming the presumptive nominee of a major American political party.
Clinton's nomination comes 95 years after women received the right to vote thanks to the 19th Amendment, and almost a decade after she first sought the presidency, announcing her bid in January 2007.
Read more: Hillary Clinton Clinches Democratic Nomination Hours Before Final Primaries
It's a milestone many women are celebrating, at least for a brief moment, before Clinton officially embarks on what's expected to be a contentious, and likely ugly, general election battle with presumptive Republican nominee Donald Trump.
"Hillary is a trailblazer. She will break that glass ceiling once and for all," Sen. Barbara Mikulski, a Maryland Democrat and the longest-serving woman in Congress, said by email. "She will make history and change history. For Hillary, it's not only about gender; it's about having an agenda. She's a champion for the underdog, for the little guy and little gal. We need a leader that will keep this nation moving forward. That's the kind of president she'll be."
To be sure, women have gotten close before.
Clinton nearly won the nomination in 2008, but came up just short in a contentious primary against now-President Barack Obama.
And two women — Sarah Palin and Geraldine Ferraro — were vice presidential nominees in 2008 and 1984, respectively.
But Clinton becoming the presumptive nominee marks one step closer to the ultimate goal of a female president. And women working in politics say it's something that will inspire future generations of women to seek office down the road.
"This is a big freaking deal," said Marcy Stech, communications director for Emily's List, a group that seeks to elect pro-choice Democratic women to all levels of government, including the presidency.
"When you see it, you can be it," Stech continued in an interview. "And I think that is something that a lot of little girls across the country are going to look at and say, 'That's something we can do too.'"
Clinton, for her part, also reflected on the historic nature of her nomination while campaigning in California earlier Monday, saying it's "really emotional."
"I am someone who has been very touched and really encouraged by the extraordinary conviction that people have," Clinton told reporters at a news conference. "It's predominantly women and girls, but not exclusively. Men bring their daughters to meet me and tell me that they are supporting me because of their daughters."
"And do I think it will make a very big difference for a father or a mother to be able to look at their daughter, just like he can look at their son and say, 'You can be anything that you want to be in this country, including president of the United States,'" Clinton added.
Trump, not one to shy away from a fight, sought to diminish the historic nature of Clinton clinching the nomination.
"I was the one that really broke the glass ceiling on behalf of women more than anybody in the construction industry," Trump said, according to a tweet from NBC News campaign embed Ali Vitali.
June 6, 2016, 10:04 p.m. Eastern: This story has been updated.