The One Influential Group of People Who Definitely Won't Be Voting for Trump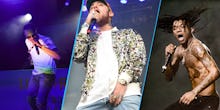 Rappers have a history of referencing Donald Trump in their lyrics to flaunt money and power —so much so that his name has become synonymous with wealth in rap music.
Need examples?
Mac Miller vowed to "take over the world when I'm on that Donald Trump shit," in his 2011 hit named for the now Republican presidential candidate:
Rap duo Rae Sremmurd dropped a single called "Up Like Trump" in 2015 about being so rich that their chains "hang like nunchucks":
Back in 2004, Eminem fake ran for president — and none other than money man Trump endorsed him.
But that was before Trump ran for president. And made endless racist and sexist comments to leverage his campaign. And promised to build a physical wall between Mexico and the United States.
Now, let's just say rappers aren't fond of him.
Dear Mr. Trump — Sincerely, T.I.
Mac Miller is officially off "that Donald Trump sh*t."
And Rae Sremmurd won't be dropping anymore fire tracks comparing themselves to Trump.
Watch Wednesday's full MicCheck episode below for the full experience: