This Mom Breastfed Her Daughter During Graduation and the Internet Is Loving It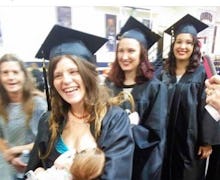 Amber Bowers didn't expect a photo of her recent graduation from Clary Sage College in Tulsa, Oklahoma, to go viral. 
The mother of three, who recently received her diploma in massage therapy, didn't think too much about bringing her baby daughter Luna to the ceremony, according to Cosmopolitan. But when a photo of Bowers breastfeeding her daughter backstage wound up online, the feedback was immediate and, Bowers told Breastfeeding Mama Talk, overwhelmingly positive:
"During the ceremony, I received texts and notifications that someone had posted the photo in a local mom group as well as on their page! I was blown away by the kind words I instantly started receiving and have not stopped receiving since that evening!"
Bowers said she'd originally planned to skip the ceremony since Luna, who can't yet manage bottles, wasn't allowed to attend. She ultimately decided she wanted to be there to accept her diploma in person, and asked for permission to bring her infant daughter along. Backstage, she started nursing Luna. 
"To me, this is just what you do as a mother," she told Breastfeeding Mama Talk. "I didn't feel like I was doing anything out of the norm." She got "compliments as well as eye rolls" from bystanders, she said, and one of the women who was "gushing" over Luna took a candid and put it online. Cue the well-wishes for the multitasking mom, from women sharing similar experiences and applauding Bowers for being both a loving, attentive mom and pursuing a career.
While internet people do love to troll women for breastfeeding in public, the response to Bowers' viral photo attracted notably glowing commentary, although one Marcus Watson did mention a page that had "nothing but nasty words" for the story. On the whole, though, the consensus seems to be that busy mothers have to do what they have to do, including feed their children when their children need to be fed.
Read more: Moms of Instagram Applaud Reformation for Designing Stylish Breastfeeding-Friendly Clothing