Jane Goodall Weighs in on Harambe's Death, Calls It a "Devastating Loss"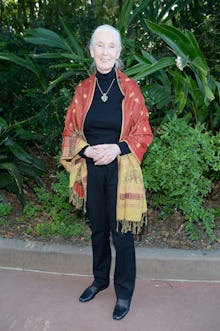 In an email to the Cincinnati zoo, primates expert Jane Goodall responded to the controversial killing of the zoo's silverback gorilla Harambe. On Saturday, a 4-year-old boy fell into the gorilla's exhibit. In attempts to save the boy among the screaming on-lookers, staff members shot 17-year-old Harambe, which has now prompted protests nationwide. 
In her brief email, Goodall called the death "a devastating loss to the zoo, and to the gorillas," adding that it looked "as though the gorilla was putting an arm round the child" in a protective manner, like how in 1996, a female gorilla named Binti Jua saved a child who fell into her own enclosure at Chicago's Brookfield Zoo. 
Goodall isn't the only one who thinks that this was what Harambe was doing.  
"I feel so sorry for you, having to try to defend something which you may well disapprove of," Goodall wrote in the email, which was addressed to zoo director Thane Maynard.
Goodall then asked how the other gorillas reacted, and if they were allowed to see the death so that they could express grief properly. 
On Monday, Maynard said that "the child was at risk," and that Harambe was dragging him around the exhibit. A tranquilizer also probably wouldn't have been fast enough to stop Harambe, who can crush a coconut with his hands, according to Maynard. 
Harmbe's death was the zoo's first in its 143 years of history. 
Read more: Zookeeper Explains the Hard Truth as to Why Harambe Had to Be Killed at the Cincinnati Zoo