Here's How Cam Performers Deal With Online Harassment — And What We Can Learn From Them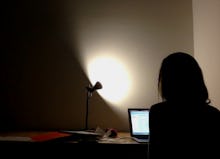 Every time 22-year-old cam performer Eliza Jane logs online to start her show, she faces an onslaught of harassing comments. Typical insults include "slut" or "whore," as well as demeaning comments about her having no future and disgracing her family.  
The university student, who's been performing on interactive webcams for two and a half years, says she is harassed almost every time she broadcasts. 
"I'm not sure I've ever done a show where I didn't experience some [harassment]," Jane said in an interview while attending Cam Con, an adult entertainment convention in Miami. 
The issue of sexual harassment is widespread across the internet, with women bearing the brunt of the aggression. In 2014, a Pew Research Center survey found that 25% of young women online have been sexually harassed and 26% have been stalked on the internet. Yet Jane feels cam girls are especially vulnerable to this type of harassment. "We're an easy target for people with anger online," she said. 
That's in part because the performers often have closed group chatrooms, which don't require users to enter their personal information to open an account — ideal circumstances for those who wish to send anonymous verbal attacks.
Cam girls Violet and Kayden Kortica, a couple in their early twenties who also cam together, have experienced similar harassment. Violet and Kayden live in Southern California and have been camming for almost a year. Online, anonymous strangers often slut shame and harass the couple.
"I receive a lot of online harassment due to my androgynous figure. People try to tear me down because I'm a little more masculine," Kayden said during an interview in Miami. "They call me a cunt. One person called me a dense prostitute." 
To a degree, performing live webcam shows from home on regulated platforms like Chaturbate and Streamate, both popular subscription platforms for live erotic web shows, can give broadcasters a layer of security. They can block abusive accounts, decide if they feel comfortable publicly advertising or would prefer to stay anonymous. They can also choose whether to physically interact with other performers. 
But broadcasting personal images to strangers can still put cam performers at increased risk for blackmail and slut shaming. Viewers can secretly take screenshots or record live shows and post the images elsewhere without permission. Because cam girls often have intimate exchanges with their clients online, some harassers feel entitled to have real relationships with them. That can sometimes lead to stalking and, in some cases, threats of violence or blackmail. 
Redditor Stalk_a_by_baby described how a customer of her sister, who works as a cam girl, contacted her on LinkedIn without her sister's knowledge and sent her a slew of creepy messages. "He claims that since he has given her gifts, he deserves to marry her, and he's hurt that she won't," Stalk_a_by_baby wrote. "She told me that he said that she should feel real pain, like losing her kids."
Jane knows several peers who quit the industry after trolls published their personal information online, sometimes even physically showing up and stalking the performer in person. "I definitely worry about my physical safety," she said. "I'm at risk every day...I just hope I'm not the next girl to go through something terrible." 
In 2012, a cam girl called "Nina" was bombarded with fat-shaming comments and taunts urging her to commit suicide. A video of Nina sobbing while trolls harassed her in her chatroom went viral, drawing attention to the risks of online mob mentality. 
Jane has seen this dynamic at work. She said when one harasser insults her or demands she perform a sex act she's explicitly said she's uncomfortable doing, several others often chime in and gang up on her together. One time she even experienced a coordinated bombardment in her chatroom, where around 15 users demanded she commit suicide. "I heard it happened to other girls on the same day," she said. 
Like Jane, the Korticas entered the industry with no previous experience in sex work because they wanted the freedom of running their own business. "It's all about ambition, self-motivation and discipline," Kayden said. "You set your own 'hows' and 'whens.'" The couple usually laughs off insults from viewers.
But the online behavior that bothers Kayden the most is when viewers make demands and won't take no for an answer. Kayden described one viewer who pestered her during a broadcast to perform a rim job with Violet, even after she said they didn't feel comfortable with it. He hassled her with talk of money and saying the women were online for his pleasure. Kayden felt disgusted. 
"I'm not an object," she said. "I'm not here for you. I'm here [on cam sites] because I enjoy what I do."
The Korticas broadcast on Streamate while Jane primarily uses Chaturbate. But they're frequently harassed on social media as well. Many female Twitter users have insulted Jane about her breasts being "too small" for a sex worker, and Snapchat users routinely send her unsolicited dick pics. 
"A lot of hostility comes from Snapchat," Jane said. "[Dick pic-senders] get offended when I don't instantly accept their advances. They are quick to anger." 
She said the most common response to her silence is messages like: "Fuck you cunt, you're ugly anyway," or, "you're disgusting for doing porn." One unknown person even commented on her cam girl social account, "I know it's you," and wrote her real name. 
"My heart just stopped in that moment," Jane said. "I blocked them right away. But I don't know who that person is."
Although Jane said camming sites are quick to reply when told about an abusive user, mentioning Chaturbate's COO Shirley Lara is particularly helpful, the users often make new emails and accounts faster than cam performers report them. 
"I don't believe cam sites ban the IP address, so people can just make another profile," Jane said. "Some people hold a grudge and will come back [to the chatroom] to make it known." 
Jane said it's common for user behavior to escalate after a ban, with users returning with a new screen name and a penchant for using slut-shaming and degrading language. One banned user even stalked Jane across social media, making new accounts to follow her and sending insults every time she shut down one of his accounts. At this point she can tell it's the same guy and report it once he starts up again. But there's not anything she can do to prevent him from making new accounts. 
"I've had to take down my real social media for the sake of my safety," Jane said. "There are a lot of friends I haven't talked to since [deleting Facebook}." 
Interacting with strangers online is a huge part of a cam performer's job. So how do performers recommend dealing with the haters? 
Jane tries her best to block and ignore harassers, focusing on the supportive compliments she receives from fans and customers. "Internalize the positive more than the negative," Jane said. "The positive is coming from the people that matter."
Once, Jane took the time to talk directly to an abusive user and ask why he was calling her a bitch. Eventually, he broke down and wrote back that his girlfriend had recently cheated on him and he had taken out his anger on Jane. Yet because Jane doesn't have the time or energy to confront every harasser, she predominantly relies on the "block" button. 
Cam girls face online harassment more often than most women, so there's a lot that internet users can learn from these sex workers about how to handle slut-shaming and abusive language. Violet advises people who experience gendered harassment online to report it and then "ignore it" completely. "And a lot of working the frustration out in the gym, a lot of cardio," she said.  
Kayden takes the opposite approach. "I try to reply with witty banter. I feel better when I outsmart them," Kayden said. "It's also a lot of positive self image. I had a time when I looked in the mirror and told myself 'you're beautiful' [every day]. Now I just see what I feel and what people are saying just rolls off [my shoulders]."