Paul Ryan Endorses Donald Trump, Hoping No One Will Notice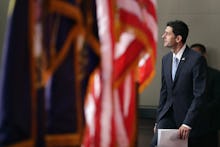 The Trump Train is leaving the station, and, at last, House Speaker Paul Ryan is getting aboard.
The Wisconsin congressman initially resisted throwing his support to presumptive Republican presidential nominee Donald Trump.
Read more: House Speaker Paul Ryan Is Not Quite Ready to Endorse Donald Trump
But in a column published Thursday by his hometown paper, The Gazette, Ryan took the leap.
"It's no secret that he and I have our differences. I won't pretend otherwise. And when I feel the need to, I'll continue to speak my mind. But the reality is, on the issues that make up our agenda, we have more common ground than disagreement," Ryan wrote.
The 2012 vice presidential nominee carefully couched his promise to vote for Trump in November in an argument about how a Republican president would advance the GOP's blueprint for progress.
"For me, it's a question of how to move ahead on the ideas that I — and my House colleagues —have invested so much in through the years. It's not just a choice of two people, but of two visions for America. And House Republicans are helping shape that Republican vision by offering a bold policy agenda, by offering a better way ahead," the speaker said. "Donald Trump can help us make it a reality."
Prior to pledging his vote to Trump, Ryan — who met numerous times with the candidate behind closed doors — openly expressed his reservations about the Manhattan mogul's rhetoric and ideology.
Over time, "Through these conversations, I feel confident he would help us turn the ideas in this agenda into laws to help improve people's lives. That's why I'll be voting for him this fall," he wrote.
Ryan's column got in the requisite calls for GOP unity after a bruising primary season, along with an emphasis on the big picture: Stopping Democrat Hillary Clinton from winning her second Oval Office bid.
"A Clinton White House would mean four more years of liberal cronyism and a government more out for itself than the people it serves. Quite simply, she represents all that our agenda aims to fix," Ryan wrote.
Now the nation will debate and decide whether Ryan's willingness to get with the Trump program will be seen as realpolitik, capitulation or a call to the GOP rank and file to unify against the Democrats.