S'mores in a Cone Is the Ultimate Lazy Person's Summer Dessert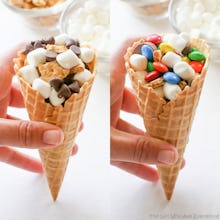 The best part about s'mores: hot, melty marshmallow fused with hot, melty chocolate. 
The worst part about s'mores: Getting hot, melty marshmallow and hot, melty chocolate all over your hands when the insides inevitably ooze out of your graham cracker sandwich. 
But hurrah! One recipe shared by Christy Denney, the blogger behind The Girl Who Ate Everything, has made it possible to get a s'mores fix with seemingly much less of the mess. Enter: the Campfire Cone. It's the marshmallowy dessert that can melt in your mouth, not in your hand, and happens to be exponentially better than a handful of M&Ms. 
The icing on the cake — er, cone? You don't even need a roasting stick or a campfire to get started. 
1. Round up chocolate chips, mini marshmallows, graham cracker pieces, ice cream cones and aluminum foil. 
2. Layer toppings in each cone, and wrap the cone in sturdy aluminum foil. 
3. Lay the wrapped cones on top of campfire coals for roughly five minutes, or until the ingredients inside the cone are "nice and melted." (You can also bake it in the oven at 400 degrees Fahrenheit.) 
4. Devour. 
Up your s'mores cone game by taking a page from these Instagrammers, who added mini peanut butter cups, strawberries, blueberries, cereal and peanut butter chips into the mix.