Publicist Tells Zendaya She Should "Just Be Happy" They're Putting a Black Girl on Cover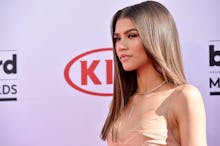 She's proven time and time again do not come for her, haters. Now, in an interview accompanying her new cover of Cosmopolitan, Zendaya, the queen of both the clapback and over-the-shoulder posing, reveals the uncomfortably racist comment that led to her firing her then-publicist.
"I didn't like my hair and makeup one time on a photo shoot, and my publicist told me, 'You should just be happy with it — they haven't had a black girl on the cover since forever,'" she told Cosmo. Dissatisfied with the response, Zendaya found new management, telling the mag simply "she's no longer my publicist."
Read more: Why Is Everyone Freaking Out About This Zendaya Magazine Cover?
It ended up being a smart decision. This year alone, Zendaya became the face of CoverGirl, released a new song featuring Chris Brown, was cast in the Spider-Man reboot and appeared in Beyoncé's visual album Lemonade. Not to mention her other magazine cover appearances including Wonderland, W, Marie Claire and Galore.
And lest we not forget she also brought back the mullet at this year's Grammy Awards.
One might think Zendaya's world is entirely consumed with work, but the 19-year-old still makes time for speaking out about important issues, especially when it comes to her former employer. 
"The only way I was going to come back to the Disney Channel was if I was in a position of more power," she told Cosmo. "One thing that is really important to me is diversity on the channel. It's hard as a young person of a different ethnicity or background to look at the TV and not see anyone who looks like you. Representation is very important." 
And representation is just what Zendaya continues to bring. That, and a clear mastering of the art of defying her haters.