Saint Ryan Gosling Says Women Are Stronger Than Men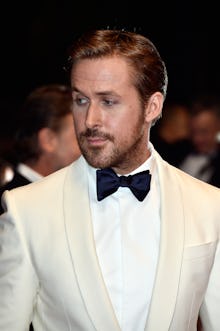 Hey, girl (and Matt McGorry) — Ryan Gosling has some thoughts that will cement his throne as the greatest male feminist icon on the internet: Women are better human beings than men.
In an interview with the Evening Standard published Thursday, the Nice Guy star confessed he believes women are "stronger" and "more evolved" than their male counterparts. 
"I think women are better than men," Gosling told the Standard. "They are stronger, more evolved. You can tell especially when you have daughters and you see their early stages, they are just leaps and bounds beyond boys immediately."
Gosling also revealed he sometimes identifies as 47-49% woman. "I'd say 49 per cent [woman], sometimes 47 per cent, it depends on what day you catch me," he said.
The Canadian film actor — who was raised by his mother and older sister — went on to lament the wages of the "male gaze," a phenomenon he was cognizant of from a very young age.
"When my mother and I walked to the grocery store, men would circle the block in cars," he said. "It was very, very scary, especially as a young boy. Very predatory — a hunt. It's our time as men to be on the receiving end of the stick."
While Gosling has always swept women off their feet with his dashing good looks and charming sprezzatura in films like The Notebook and Crazy Stupid Love, his heart belongs to one woman — his partner and fellow actor Eva Mendes, with whom he has two daughters.
This also isn't the first time Gosling has made a celebrated feminist remark. Back in July 2015, he told Sunday Style that feminism has been "very important" to him since having his daughter. 
"I do have a little girl now and it's important to me," he said. "These things are becoming ... not more important to me, but more important in general, I think. There are lots of great women out there who I really admire: Tina Fey, Amy Poehler, the Broad City girls [Abbi Abrams and Ilana Wexler], Lena Dunham and Kathryn Bigelow. I don't know, it just seems like it's happening."
Yes, it is. The feminist Ryan Gosling comeback is officially happening.