Amy Schumer Promotes National Gun Violence Awareness Day With Underwear-less Selfie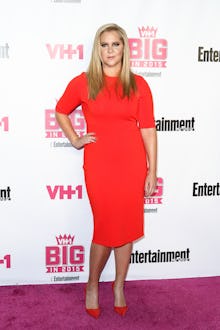 Amy Schumer promoted gun safety on National Gun Violence Awareness Day with an eye-catching decision: posing for a underwear-less selfie. 
Schumer posted the selfie on her Twitter and Instagram on Thursday in conjunction with the movement to end gun violence, along with the hashtag #WearOrange, which calls for supporters of the cause to wear orange themselves. 
Additionally, Schumer posted a photo alongside her friends, wearing all orange, to pay tribute to the two victims of a movie theater shooting last year during a screening of Schumer's comedy, Trainwreck. "Me and my honeys on set like to #wearorange thinking of you today and everyday Mayci and Jillian," the caption reads. 
Schumer's outspoken views on gun violence have led to, among other things, her requiring a bodyguard after several death threats were aimed at the comedian, according to a May 2016 cover story from Vanity Fair. In April, Schumer parodied America's obsession with guns on her comedy sketch series, Inside Amy Schumer. 
"Having received numerous death threats thanks to her public musings that the Second Amendment might not 100% require arming lunatics, Schumer had also acquired a bodyguard since I'd last seen her," Bruce Handy wrote for Vanity Fair. "Burly if not quite Dwayne Johnson-size, he stood outside her spartan, cold trailer — the heat wasn't working — while we talked and she ate some microwaved, not very appetizing-looking eggs for a late breakfast. Cable sketch comedy is not a glamorous world." 
Moreover, in response to the theater shooting, Schumer has spoken out in support of stricter gun control laws, with the help of her cousin, New York State Sen. Chuck Schumer. 
#WearOrange began in 2013, when friends of a gun victim in Chicago decided to honor her by wearing orange in solidarity. But why orange? "They chose orange because that's what hunters wear in the woods to protect themselves and others," the official website for Wear Orange reads. 
Since then, the movement has continued to gain nationwide traction, with the support of Everytown for Gun Safety. As such, other celebrities have advocated for the issue this year, including Kim Kardashian, Spike Lee, and Julianne Moore.
Read more: Amy Schumer Perfectly Nails the Hypocrisy With Guns in This 'Inside Amy Schumer' Sketch