Donald Trump Supporters Beaten, Pelted With Eggs in California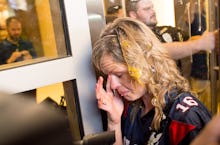 Violence erupted in San Jose, California, after a number of Donald Trump supporters were attacked by protesters while leaving a rally for the candidate on Thursday evening. Several Trump fans were punched during the altercations, at least one woman was pelted with an egg, and a Trump hat was set ablaze, Fox News and others reported. 
Read more: Teen Bullied by Students and Teachers for Wearing "Make America Great Again" Hat to School 
The scene took place while the presumptive Republican candidate was addressing supporters at the city convention center, where he responded to criticism from former Secretary of State Hillary Clinton and called on his likely rival for the presidency to face jail time over her use of a personal email while working in the White House. 
"I will say this: Hillary Clinton has to go to jail," Trump told his fans, the Guardian reported. 
Mayhem outside was only calmed after police intervention, which led to at least four people being taken into custody. 
Photos from the scene paint a picture of chaos. 
The city's Democratic mayor and Clinton supporter, Sam Liccardo, said Trump stokes divisiveness wherever he goes. 
"We're all still holding our breath to see the outcome of this dangerous and explosive situation." he told the Associated Press. "At some point Donald Trump needs to take responsibility for the irresponsible behavior of his campaign."
Clinton addressed the violence, coming to the defense of his supporters through campaign chairman John Podesta. 
"Violence against supporters of any candidate has no place in this election," he tweeted.