This Video Tearing Apart Hipster Media for "Columbusing" in Harlem Is Going Viral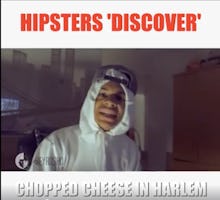 A viral Facebook video entitled "Hipsters 'Discover' Chopped Cheese in Harlem" is shedding light on the precarious ways the media talks about food. 
In the video, Jeffrey Almonte, a black 19-year-old YouTube star from Harlem, sat near his computer and provided his own commentary on a video from INSIDER Food. INSIDER's video featured a "chopped cheese" sandwich, a Harlem staple made of grilled ground beef, peppers and onions, topped with cheese slices, all served on a toasted hero. 
Almonte first spotted the INSIDER video, which was originally posted in February 2016, on a friend's Facebook wall. "This is New York City's answer to the Philly cheesesteak," the enthusiastic reporter said in the insider video. "Most New Yorkers don't even know it exists," she said. This shocked Almonte. 
"Seeing the video was hilarious to me for the first few moments," Almonte said in an email. "It almost seemed like some sort of satire on hipsters 'discovering' food in estranged places and saying that 'no one knew about it.' Right. No one important." 
The statement is insulting, considering that the chopped cheese sandwich is considered an iconic sandwich in Harlem, and other neighborhoods in the Bronx and Queens, First We Feast reported.
The worst part of the INSIDER video, according to Almonte, is when the reporter calls the $4 sandwich a steal, "as if this was some treasure chest waiting for upper class folk to come take advantage of and take by the dozen," Almonte wrote. "It's not $4 because it's some shopping sale. It's $4 because that's our standard of living." 
And given the 2.4 million views and 45,000 shares as of this publication on Almonte's video, a number of people seem to agree. His video was shared roughly 1,000 times in the first hour it went live on Wednesday, he said. 
Almonte said in the email he hopes "people [will] consider the circumstances of a community before saying things like 'it's a steal' and rallying up their friends to come buy at this new hot spot." 
And when it comes to reporting on food trends that have actually been around for decades, Almonte provided some advice for food media in his email:
"If [INSDER Food] really loves foods from different cultures, they would get an actual local from the neighborhood they're in to host the show depending on where they are. Perhaps a black guy with an actual Harlem accent and designer Hoodie with cargoes wasn't the 'look' they were going for?"
In his video, Almonte pointed out that the reporter is "Columbusing" (as acting like Christopher Columbus, the white dude who "discovered" America,) which is something food media, and media at large, needs to be more sensitive about.