Will There Be a Season 8 of 'Archer'? Season 7 Finale Leaves Viewers Stunned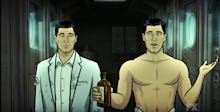 It may not be Game of Thrones' Jon Snow being stabbed to death by members of the Night's Watch, but the seventh season of Archer sure did end with a bloody cliffhanger. The final shot features the titular secret agent Sterling Archer (voiced by H. Jon Benjamin), floating in a pool, blood pouring out of his body from several bullet holes. 
But, whether it's a comedy or a drama series, a cliffhanger is a cliffhanger, and eager fans will want to know the fate of the snarky spy. However, the producers of Archer admit they intentionally left the finale open-ended, as the series has yet to be renewed for an eighth season by FX. 
"You know, FX hasn't picked the show up yet," executive producer Matt Thompson said in an interview with the Daily Beast. "We don't know. Archer might be dead. We have some ideas, but you know, it's very much sitting right there. That could be it." 
Read more: 'Archer' Became the Most Sexually Progressive Show on Television While No One Was Looking
If so, it would leave a huge gap to fill in the animated comedy space, considering it has been nominated for outstanding animated program two consecutive years at the Emmys, and four straight wins for best animated series at the Critics Choice Television Awards. Certainly, Archer's potential cancellation could hinge on its low ratings — the season seven premiere was the show's only season premiere to garner more than a million viewers.
However, as the Daily Beast's Marlow Stern notes, a series like Archer hinges on its popularity in other forms of media consumption — namely, Netflix and other streaming services. 
Moreover, losing Archer would mean losing one of the most sexually progressive shows on TV. "Sex is not some shameful facet of these characters' lives or one which remains conveniently off-screen," Manuel Betancourt wrote for Mic earlier this year. "Instead, it is central to their characterizations. Even the fact that the show takes care to sexualize and ogle Archer's body ('Do you not see me rocking this chiseled slab of hard man body?') clues audiences into the sophisticated vision of gender and sexual equality that the show espouses." 
Still, executive producer Casey Willis said that nothing was set in stone at the moment, and the series could still inevitably be renewed by the network. "They like to really control that message, too, so we'll probably find out when everybody else finds out," Willis told the Daily Beast. "We're going ahead and forming ideas and getting ready for whatever happens, so if it happens, we'll be ready, and if not, we'll have a bunch of ideas that we'll probably throw out on the internet!" 
Hopefully these ideas would include the ineffable antics of fan favorite Dr. Krieger (voiced by Lucky Yates), whether the character's really become a clone of himself (or Adolf Hitler) or otherwise.