This Sexist #IDumpedTaylorSwiftBecause Hashtag Is Going Viral — Here's Why It's Gross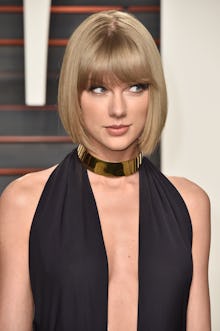 After a year-long reign as one of the music industry's cutest power couples, songstress Taylor Swift and DJ Calvin Harris are officially broken up and heading their separate ways. The internet immediately responded with archaic sexism, tweeting the Grammy-winning artist can't "hold down" a relationship or "keep" a man.
Swift is no stranger to sexist scrutiny of her love life. Critics often dismiss her music for romantic themes and breakup ballads. Soon a new hashtag went viral, #IDumpedTaylorSwiftBecause, and the chauvinist obsessions with Swift's relationship status only got creepier as Twitter users around the world chimed in.
This obsessive focus on Swift's relationships speaks to the gendered criticism of her career and persona as a whole. There's even an entire Wiki page dedicated to listing her ex-boyfriends. Beyond that, Swift is often portrayed in the press as frivolous, jealous and emotional. 
"There's this drastic fictionalization of my personal life in the press. They'll write that I'm needy, that I push people away, then I pull them back," Swift said, according to the Los Angeles Times. Swift even confronted this "boy crazy" stereotype head on in 2014 with the song "Blank Space."  
Yet despite Harris's tweet denouncing any accusations that Swift spoiled the romance — saying the only truth is the relationship came to an end and there's still love and respect between them — the viral Twitter hashtag alleging the breakup was "crazy" Swift's fault shows just how misogynist celebrity gossip can be.