Ahead of 'Finding Dory' Premiere, Biologists Warn Viewers Not to Buy the Blue Tang Fish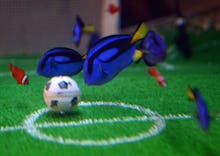 One of Pixar's most beloved characters will hit the big screen later this month with her own eponymous sequel to 2003's Finding Nemo. Dory, the chatty sidekick to Nemo's father voiced by talk show host Ellen DeGeneres, will surely return with her compassion and penchant for whale calls. But ahead of the Finding Dory premiere, scientists are reminding viewers that the real thing — the Pacific blue tang — doesn't talk and is actually being illegally collected and kept as pets.
"When you make an animal charismatic, adorable and just as cute as it is with Ellen DeGeneres' voice on there, there's nothing you can do to stop people from wanting to know more about that animal and then wanting to be able basically to keep that as a pet," marine biologist Andy Rhyne of Roger Williams University told Marketplace. 
Read more: The 'Finding Dory' Trailer May Feature Pixar's First Lesbian Couple
Biologists like Rhyne are worried that the upcoming movie will spark a trend of people purchasing the blue, black and yellow fish, which are reportedly "under threat" from illegal collection, according behavioral ecologist Culum Brown.
In an interview with NPR, Brown said the species has an important role in the ocean's ecosystem. "They graze algae on coral reefs, which is a very important job because it prevents the corals from being overgrown," he said. 
Others have organized around the cause too: An online petition which has nearly reached its goal of 110,000 signatures calls for Disney to take direct action to protect the Pacific blue tang.
"If Disney does not place an explicit warning at the beginning of the film asking viewers not to adopt Blue Tang like Dory, then we will see a sharp decline in their population," it reads.
The petition's author Kelsey Bourgeois cited a reported 40% spike in the sale of clownfish following Finding Nemo as a cautionary tale for the movie franchise. 
She wrote, "Now that Disney knows the effect Finding Nemo had on clownfish, they should prepare for the effect Finding Dory will have on Blue Tang by doing their part to warn folks who see the movie."
The petition asks Disney: "Tell fans to find Dory, not buy her."