This Viral Story Is Sparking Intense Debate About Violence Against Women In Pakistan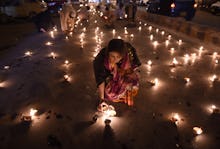 A young Pakistani woman died on Wednesday after she was beaten and set on fire earlier in the week, reportedly all because her family refused a man's proposal to marry her. 
After her father decided 19-year-old Maria Sadaqat, a schoolteacher, would not marry the son of her employer, a group of men attacked the young woman in her home, dousing her in gasoline, setting her ablaze and leaving her for dead. Sadaqat was taken to a hospital in Islamabad with burns on 85% of her body, the Express Tribune and Agence France-Presse reported. According to the BBC, Sadaqat's father said the father of the man who proposed, who owns the school where the victim worked, was among the perpetrators. 
"[Sadaqat] was teaching at their school," the victim's aunt, Aasia, told the BBC. "They sent in the proposal six months ago but the guy was already married and had a daughter. They wanted her to run the school after marrying the son of the owner of the school. ... Her father refused the proposal and they took the revenge by doing this."
Sadaqat is hardly the only woman to die as a result of gender-based violence in Pakistan; she's one of several victims to be immolated in the past year. Pakistani officials formally investigated 76 cases of women being burned alive in 2015, which is merely a small portion of the estimated 1,096 recorded attacks and "honor crimes" that year, according to the country's Human Rights Commission. Attacks like Sadaqat's, which are often rooted in social customs that condone assaults on women, are regrettably common in Pakistan, where a recent law passed in the Punjab province banning violence against women was met with outrage. 
Vehement protests against laws that prohibit violence against women might be unthinkable in an ostensibly more "progressive" country like the United States (or not, perhaps), but attacks on women who reject men directly or indirectly — women like Sadaqat — are not uncommon. In the first two months of 2016 alone, two American women, Caroline Nosal and Janese Talton-Jackson, were killed by men they apparently turned down. At least a dozen other women were also brutally attacked over the course of the previous year apparently for saying no to men who were interested in them. 
It would seem that could be the price women pay for autonomy, regardless of their cultural background or where they live. Maria Sadaqat was not the only woman who could have feared she would lose her life for saying no to a man, in Pakistan or in another part of the world. Unfortunately, she likely won't be the last for whom that fear would be — or will be — well-founded.