Fentanyl Is the Lethal Drug That Killed Prince — And Nobody Seems to Be Talking About It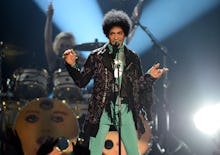 Prince's cause of death has been confirmed: The pop icon overdosed on a potent synthetic opioid called fentanyl.
Fentanyl is up to 50 times more powerful than heroin and up to 100 times more powerful than morphine, and is "the most potent opioid available for use in medical treatment," according to the Drug Enforcement Agency. 
Like other opioid drugs — such as heroin, oxycodone and morphine — fentanyl binds to opioid receptors in the brain and fuels the production of dopamine, which triggers pain relief and feelings of pleasure. Fentanyl can be taken in a number of formats, including intravenously, intranasally or as a tablet, patch or lozenge. Doctors can prescribe it, but it's also being sold on the streets. 
Fentanyl-related overdoses have been occurring "at an alarming rate" in recent years, the DEA stated. In this year alone, the drug has been linked to 10 deaths in 12 days in the Sacramento area, at least 19 deaths in 11 days in Buffalo and eight deaths in a single week in Milwaukee County. 
Given the staggering number of fentanyl-related deaths — Prince's included — there's no question we need treatment options for folks who are addicted to it. 
But which treatment option works best? "The jury is still out," John Merrigan, register of the Franklin County Probate and Family Court in Massachusetts and co-chair and founder of the Opioid Task Force, said in a phone interview Friday.
In the opioid-addiction-treatment community, there's debate over which forms of treatment are superior. Some treatments involve completely abstaining from drug use — think 12-step programs or abstinence-only rehab centers. Others involve using legal, less euphoric opioid drugs — such as Suboxone or methadone — to manage withdrawal symptoms and drug cravings. 
The abstinence approach: Origins Behavioral Healthcare, a network of recovery centers in Florida and Texas, uses different types of care to help patients achieve sobriety. Patients undergo a medical detox, then receive different types of therapy that meet their own individual needs, from psychiatry to psychodrama to sensory deprivation tanks. When they've finished an inpatient program, some Origins patients move to a transitional, clinically-supervised sober living environment.
For founder Ben Levenson, there are certain cases where longterm maintenance drugs are appropriate, but "the goal is abstinence," he said in a phone call Friday.
Detoxing alone isn't nearly enough to end people's opioid use for good. "People go to detox for a week, or two weeks, and then they return to their regular housing where their neighbor's their dealer," Merrigan said. He's seen people with opioid addiction go in and out of detox "seven or eight times." "They're overdosing when they come out," he said.
That's why Levenson's facilities address the internal issues causing people's addictions. "My patients don't have a drug and alcohol problem — they have a drug and alcohol solution," Levenson said. "It's what they're using to get okay inside."
In a report provided to Mic via email, Origins tracked "use events" among 388 patients who completed a year-long post-discharge recovery support system. Among those who finished the full program — and didn't go "out of contact" before it was over — 219 had no use event, while 169 did. Clients who stayed in an Origins inpatient treatment for 60 or 90 days were less likely to have a use event than those who completed 30- or 45-day stays.
The maintenance approach: For Maia Szalavitz, a science journalist who has covered drug issues for decades and is the author of Unbroken Brain: A Revolutionary New Way of Understanding Addiction, the best way to treat opioid addiction is clear.
"The only thing proven to reduce death rates is maintenance with Suboxone or methadone," she said in a phone interview Friday. "Anybody who recommends anything other than that is potentially putting patients at risk of dying."
Maintenance therapy gives patients a steady tolerance to opioids, making it harder for them to overdose. As the National Institute on Drug Abuse points out, studies have shown methadone maintenance therapy reduces illicit drug use, lethal overdoses, criminal activity, needle sharing and HIV infection rates — among other benefits. 
The World Health Organization recognizes methadone as "the most effective" treatment for opioid drug abuse, and the National Institutes of Health has stated that "all opiate-dependent persons under legal supervision should have access to methadone maintenance therapy."
Drugs like Suboxone and methadone do have their downsides: They can be sold on the street or traded for heroin, and some people experience unpleasant side effects. There are also folks who favor abstinence because they don't think it's right to continue taking opioid drugs — potentially for the rest of your life. 
"The argument for abstinence-only treatment is, 'We're morally superior,'" Szalavitz said. "But that's not an argument that should be allowed to win in the face of death."
The takeaway: No matter the eventual form of treatment, Merrigan stressed that early intervention is key — that, and raising awareness about how dangerous fentanyl really is.
"You have to hope for next generation to be educated and aware of how destructive this drug is to your body, your life your family," he said. "Stay away."