Bank of America Employee Goes On "F***ing N***ers" Facebook Rant, No Longer Has Job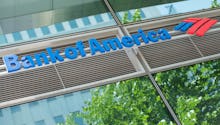 Bank of America fired an Atlanta-based employee Thursday after she referred to black people as "f***ing n***ers" in a Facebook post.
According to the Atlanta Journal-Constitution — which published screenshots of the since-deleted post — Christine McMullen Lindgren's outburst called on "f***ing n***ers" to "go back to Africa get over your pity party you created this hatred and your own kind that brought your great great [grandparents] over here and sold them."
The post — in which Lindgren also told black people to "do something with your lives" rather than "collect welfare" — prompted a social media firestorm. 
A number of users messaged Bank of America, asking the company if it shared its employee's values.
"Does Christine McMullen Lindgren really work for you?" one person wrote, according to the Journal-Constitution. "If she is one of your employees, are you going to take action against her?"
"I hope this company's values do not align with Christine's," another woman wrote. 
Bank of America said the employee had been fired by 1 p.m. Thursday. 
In a statement to the Journal-Constitution, Bank of America senior vice president and communications manager Andy Aldridge confirmed Lindgren was indeed an employee, but that she "no longer works for Bank of America." 
He also called her comments "reprehensible and unacceptable." 
This is far from the first time an employee's social media persona has influenced their employment status. Almost three years have passed since Justine Sacco's job-losing-but-not-career-ending tweet about AIDS in Africa, which spurred a larger tweetstorm and sparked a national conversation about the perils of personal and work life overlap.
Of course, punishment for racism on the job is not always equal, either: While Lindgren and Sacco got sacked, others folks — like this Mobile, Alabama, teacher who administered a racist test to her students last week — just get administrative leave.