Kanye West Debuts 'Cruel Winter' Single "Champions," Featuring 2 Chainz, Gucci Mane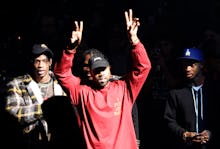 With little to no warning Friday morning, Kanye West debuted the first track off the long-awaited follow-up to his 2012 collaborative label album, G.O.O.D Music's Cruel Summer. He gave fans about a 45-second heads up via Twitter that they could catch it on LA's 92.3 radio station. 
Those who managed to tune in fast enough heard a maximal, hook-laden anthem featuring Quavo, Travis Scott, Desiigner, Big Sean, 2 Chainz, Yo Gotti and recently liberated Gucci Mane. 
Read more: Big Sean's Snapchat Suggests Kanye West's 'Cruel Winter' Album May Be in the Works
It was like a glimpse inside the Avengers Headquarters or the U.N. Security Council of rap. Fans ate up every minute of the high-powered, explosive posse cut.
West originally had no title to offer with the track. The DJs on 92.3 suggested taking a line from the hook, "Round and Round," though it seems West is settling for "Champions." He's got time to nail it down, and if its development ends up being anything like So Help Me God, SWISH, Waves The Life of Pablo, it will likely change. He won't be releasing the full track right away.
"We might mix it a couple more times before we release it and put it on sale," Kanye said during the broadcast, noting that there's an even longer version of it on the way. "We're going to do a version of that song with 12 or 15 minutes, everybody," he said.
In the meantime, those who missed it live can listen to the five-minute radio rip via SoundCloud below.