Bride-to-Be Dismisses Fat Shamers After Engagement Photos With Proud Fiancé Go Viral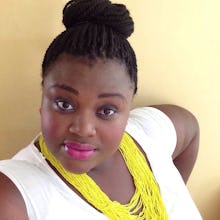 Ghanaian bride-to-be Mzznaki Tetteh, didn't expect her engagement photos with her partner Kojo Amoah to make the news. But it didn't take long for these sweet pictures of the plus-size beauty to garner a slew of fat-shaming comments from social media trolls, who mocked photos of her fiancé picking her up and snuggling her. The negative comments snowballed and the pictures went viral. 
Tetteh was a ruthless moderator, deleting comments on her personal Instagram account that criticized her weight and mocked Amoah's "awkward" choice of bride. "Imagine you getting pregnant," wrote Instagram user his.royal.flyness, "apart from the health issues... u wud be way too big... u weren't born fat... so at least try and burn some out." 
Hundreds of fat-shaming strangers flooded the couple's personal accounts for days. Bloggers were quick to note how both men and women trolled the couple on Facebook too, speculating the bridegroom would cheat on his plus-size partner. Tetteh's career as a nurse was also scrutinized as commenters lambasted her health and body.
Tetteh delivered a classy response to the sudden wave of attention: "Still confident... Your rubbish comments ain't ruining my happiness," she captioned an Instagram photo of herself with a gentle smile and a powerful hands-on-hips posture. "Thanks to all for the compliments and best wishes...am honored." 
Amoah also clapped back, telling reporters he doesn't regret posting their engagement photos on Facebook. "To me, I have always been a fan of plus-size women, and I am so proud of my woman and I don't care about what anybody says out there," he said according to local news site GhanaWeb. 
Tetteh's Instagram had only four posts before the engagement pictures launched her account into the viral spotlight. Over the past week, she's quickly garnered almost 14,000 followers and posted a handful of selfies with captions about self-love and gratitude for the support she's received since the fiasco began. Rather than change her self-image, the trolls merely introduced thousands of people to a new Ghanian style icon. 
Congrats to the happy couple, who will reportedly tie the knot on June 25. The confidence and mutual support they've shown each other throughout this burst of unsolicited public scrutiny show just how powerful love can be.