DJ Khaled, Drake Release "For Free" — Here Are the Lyrics and Where to Download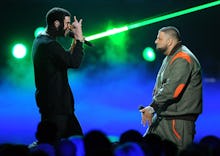 DJ Khaled and Drake dropped another one Friday.
The hit makers, who have previously delivered "I'm On One" and "No New Friends," debuted "For Free" via Apple Music. The song serves as the first official single for Khaled's upcoming Major Key, which the Snapchat guru has been teasing on Instagram for months. The summer banger comes just hours after Kanye West's "Champions," his own lead single off Cruel Winter. 
Read more: Kanye West Debuts 'Cruel Winter' Single "Champions," Featuring 2 Chainz, Gucci Mane 
The battle for the biggest anthem of Friday, June 3rd is on.
Lyrically, Drake draws some inspiration from Too Short's "Blow the Whistle," borrowing his opening lines: "I go on and on.../ Can't understand how I lasted so long/ I must have the superpowers." 
He also nods to Kendrick Lamar's "For Free?", rapping: "And like your boy from Compton said, you know this dick ain't free."
Currently, one can find it on Audiomack or Audio Jams. Read the full lyrics courtesy of Genius here.