Philadelphia Faces a Class Action Lawsuit for Its Alleged Bad Water-Testing Practices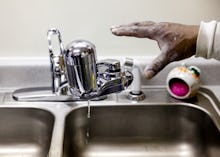 Last month, President Obama visited residents and local politicians in Flint, Michigan, to talk about the city's water crisis. Standing on stage, Obama asked for a glass of water from the tap, and took a sip, proving that Flint's water was safe for drinking if it was filtered.
But as one city begins to emerge from its more than two-year water crisis, at least 33 others across the country may be heading in the same direction. Philadelphia could be one of the worst — and now the city's water department is being sued for it.
According to the Guardian, the Hagens Berman law firm filed a class action lawsuit against the city, accusing officials of putting the public at risk with its bad water-testing practices. 
Read more: The Flint Water Crisis Is Just the Tip of the Iceberg — Bigger Battles Lie Ahead
Steve Berman, the law firm's managing partner, told the Guardian that the city's construction "creates the perfect storm for lead pipe corrosion." He added, "Yet the city has decided to conceal this growing health hazard from its own citizens," alleging that officials have "rigged" lead-testing procedures.
In January, the outlet reported Philadelphia is among the cities whose officials have been continually — and intentionally — flubbing routine reports on water safety. Medical ethnographer Dr. Yanna Lambrinidou told the Guardian at the time that Philadelphia's procedures for water testing have minimized lead levels for two decades.
"Philadelphia is arguably worse than Flint in the testing of drinking water because they use pre-flushing, the removal of the aerator and the slow flow of water into bottles, which can also distort the result," she explained.
Though city officials didn't respond to the Guardian for comment and have previously thrown skepticism at the allegations now formally waged in Thursday's lawsuit, Philadelphia residents have lost faith in their local government.
Navajo Tafari, a father of five, told the Guardian he doesn't trust the city "for anything."
He said, "I pay my taxes, I go to work, I do what I'm supposed to do, but as far as, like, trust – no, I don't."