Tinder Is About to Become More Gender-Inclusive — Here's Why That's a Huge Deal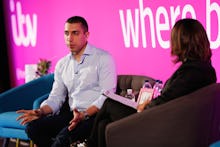 Tinder CEO Sean Rad dropped hints at Thursday's Code Conference that one of the world's most popular dating apps might soon revamp it's binary gender settings, directly addressing the platform's longstanding problem serving transgender and gender non-conforming users. 
"It's harder for [non-cisgender users] to get what they are looking for. We have to modify our experience to address that," he said. According to Recode, Rad announced Tinder will be expanding the available options for gender identifiers in the next few months, telling the crowd: "It's not only good for the Tinder community, but it's the right thing to do for the world."
Rad didn't come up with this idea on his own. Users have been posting on social media and requesting expanded options for over a year. 
Until now, Tinder's categories only included "male" and "female," with the notion of cisgender overtly implied. 
Non-cisgender users often find themselves insulted and ostracized on the app. "I'm a 19-year-old trans girl and I've tried Tinder," wrote Reddit user scifi96. "If people even suspect, let alone if I eventually tell them, I get dropped." LGBTQ users who change the gender listed on their profile, or get reported too many times by fellow users can find themselves banned from the platform. 
Even gay dating apps can be unwelcoming to non-cisgender users. The Daily Beast reported that transgender users on the popular gay dating app Grindr are often harassed and told they "don't belong." The Tumblr blog Trans Men on Grindr posts texts cisgender men on dating apps say to trans users, with conversations ranging from laughable (asking about a political stance on Caitlyn Jenner as an icebreaker) to threatening. 
Read more: Model Maya Monès Is Here to Prove Transgender Models Aren't Some Trend
Meanwhile, more and more non-cisgender users are speaking out online about how they're treated on dating apps. Non-binary transgender vlogger Neckholas recently posted a video to share personal struggles using Tinder.
Interactions with fellow users were usually demoralizing and frustrating, as straight men were often shocked to find the feminine-looking account didn't belong to a cisgender woman. Tinder eventually suspended the vlogger's profile altogether because so many disappointed users flagged it as misrepresentative. "People kept reporting me," Neckholas said in the video. "You don't get to decide if I'm 'incorrect.'" After tweeting at Tinder's official Twitter account, Neckholas' profile was eventually restored. 
In November 2015, Guardian columnist Zach Stafford wrote about his experiment with swapping Tinder gender identities and concluded: "Tinder is much more interested overall in protecting the ways in which users block and discriminate against others — and in upholding strict gender roles — then in making the app a welcoming space for all."
Finally, Tinder is not just responding to these testimonies, but is also using them to shape company policy. "We realize the importance of speaking to the needs and concerns of the transgender and gender nonconforming community," Tinder CEO Sean Rad said in an email to Mic regarding the soon-to-be expanded gender categories. "We are happy to announce that we're partnering with LGBTQ advocates and organizations, including transgender activist Andrea James and GLAAD, to help us address this important demographic. This has been long overdue and it is the right thing to do."
Dating apps have become an integral part of social life. Making deliberate efforts to include people who fall outside the gender binary helps promote equality and combat the normalized harassment many transgender and gender non-conforming people face daily. A non-cisgender individual shouldn't be penalized because other users think his or her gender identity is "wrong." Expanded options will also help non-cisgender users network and match with each other if they want.  
Dating profiles are a form of self-expression. As more people feel empowered to use these tools to explore their sexuality online, one small swipe for man can become a broader leap for mankind.