Rose McGowan Criticizes 'X-Men: Apocalypse' Poster of Jennifer Lawrence Being Strangled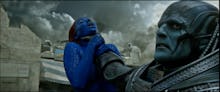 The X-Men franchise found itself in hot water this week after its decision to promote an image of X-Men Apocalypse's main villain, Apocalypse (Oscar Isaac), strangling Lawrence's character, Mystique, drew the ire of critics on social media — including actress Rose McGowan. In a Facebook post on May 26, the former Charmed star was highly critical, writing "Fuck this shit. Which studio did this?" in response to another user's complaint about seeing two billboards for the film. 
Later, McGowan elaborated on her thoughts in an interview with the Hollywood Reporter, pulling it back toward an unsettling theme of depicting violence against women in marketing. 
"There is a major problem when the men and women at 20th Century Fox think casual violence against women is the way to market a film," she told the Hollywood Reporter. "There is no context in the ad, just a woman getting strangled. The fact that no one flagged this is offensive and frankly, stupid. The geniuses behind this, and I use that term lightly, need to to take a long hard look at the mirror and see how they are contributing to society. Imagine if it were a black man being strangled by a white man, or a gay male being strangled by a hetero? The outcry would be enormous." 
Indeed, fans have been similarly critical of poster on the Twitterverse:  
McGowan ended her interview with an anecdote regarding her friend's 9-year-old daughter, who was also distraught at the violence depicted on the poster. "Her words: 'Dad, why is that monster man committing violence against a woman?'" McGowan said. "This from a 9-year-old. If she can see it, why can't Fox?" 
The fact that Fox clearly cannot — and the film isn't performing substantially well at the box office, or widely praised by critics — should signal warnings signs that the franchise needs a fresh perspective. Perhaps, instead of strangling women on posters, they can feature the female X-Men in their future installments. 
Read more: 5 Female 'X-Men' Who Would Make for a Better Movie Than 'X-Men: Apocalypse'