Chrissy Teigen Breastfeeds Baby Luna at the NBA Finals, Giving Us Serious #MomGoals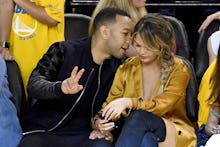 Chrissy Teigen is going to go to an NBA Finals game and she's going to breastfeed while she's there — that's just how she rolls.
During Thursday night's NBA Finals game between the Cleveland Cavaliers and the Golden State Warriors, the new mom and husband John Legend slipped out of their courtside seats at halftime so that Teigen could breastfeed their 7-week-old daughter, Luna.
The model took to Snapchat to share adorable photos of herself and the infant exploring the Oracle Arena in Oakland, California, before the game started. Legend, who performed the national anthem, was spotted doing sound checks nearby.
The cute couple also used social media to document a hare-brained scheme they'd concocted together, with Teigen disguising a bundle of blankets as her infant daughter and attempting to trick Twitter trolls into thinking she'd brought her courtside. 
Teigen has taken extra precautions to soothe would-be angry Twitter users ever since she famously took flak for going out to dinner in April, shortly after Luna's birth.
In response to the outrage pouring in at the idea that she might bring the baby to the noisy sporting event, Teigen assured fans on Twitter that she was only there to hang out for warmups.
The new mom has been outspoken about her experiences during and post-pregnancy, speaking candidly about having to wear adult diapers and receiving a spray tan around her breast pump.
Read more: Chrissy Teigen Just Spoke Out About Having to Wear Diapers After Giving Birth