Staten Island Teen Has Asthma Attack, Dies While Fleeing Crew Yelling N-Word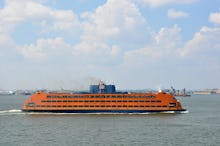 Dayshen McKenzie spent the last few moments of his life running away from a group of men spewing the N-word, at least one of whom was armed, the New York Daily News reports.  McKenzie had an asthma attack while running May 27 at around 4:15 pm. He died two hours later. 
A former New York Police Department officer, Diane Fatigati, was nearby and rushed to help McKenzie. "To me, it's murder," she said to the Daily News.
"They were chasing him — that's a crime. You're hunting them because they're black ... You're calling them a n*gger." 
Aside from yelling racial epithets, Fatigati said one person in the group — which she described as consisting of several white men and one Hispanic man — screamed "I got a gun!" at McKenzie as he ran. 
The Daily News did not report the number of men who were following him and his friends, but described the number as "carloads." 
"The sadness turns to anger," McKenzie's mother, Tisha Richardson, told the Daily News. "I want justice for him. Somebody should be held accountable."
According to Richardson, McKenzie forgot his inhaler when he left the house earlier that day. 
The Rev. Al Sharpton posted a statement Friday on Facebook, comparing it to the 1986 murder in the New York City neighborhood of Howard Beach that ended the life of young, black New Yorker Michael Griffith. 
McKenzie's death bears similarities with the death of Eric Garner in July 2014. Both happened on Staten Island and both men lived with asthma and suffocated. Garner's famous last words — "I can't breathe" — became a rallying cry for the Black Lives Matter. Like Garner, McKenzie lost his ability to breathe in his last moment.  
Friends of McKenzie's who spoke to the Daily News said they were chased after two groups of youth confronted each other in the parking lot of fast-food restaurant Checker's. 
"They were calling us n*ggers," Harry Smith told the Daily News. "I just heard a lot of racial slurs. They were mixed — some white, some of them were Hispanic. But nobody was black."