"The Vilest of Animals": The Hate-Filled Tweets of a Donald Trump Delegate from Alaska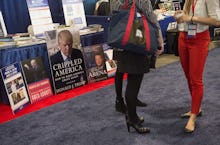 Probably the nicest thing she calls Hillary Clinton is an "alcoholic."
Vonna Husby, a Donald Trump delegate from Alaska to the Republican National Convention, has a Twitter feed filled with slams on Islam and immigrants and retweets of neo-Nazi images popularized by the alt-right.
Read more: Donald Trump Selects White Nationalist as Delegate Due to "Database Error," Campaign Says
Husby's account alternates standard pro-Trump material with tweets and retweets that include an image of Taylor Swift, who has become an iconic figure for white supremacists who consider her an "Aryan goddess."
She also retweeted an image of anti-Trump protesters that urged viewers to "Like and Share to Say California Belongs to the USA, Not Mexico."
Husby, a financial advisor whose Twitter bio describes her as "DAR, Rotary, Soroptimist, UWA, NEB, 390th Museum, Asst Secy Dist 4, & Fairbanks Rep. Women; Downtown Assn. Board. Fin. business owner. TRUMP DELEGATE Cleveland," declined comment via a Twitter direct message.
Muslims, refugees and the media are also targets of Husby's Twitter ire:
She has a particular taste for attacking Clinton, the likely Democratic nominee — even going so far as to call her thief and a killer:
The tweets were flagged online Friday by @StopTrumpPAC, just weeks after the campaign of the presumptive GOP nominee — who is famous for his own inflammatory rhetoric — got called out for naming white nationalist leader William Johnson as a California delegate. Team Trump later attributed the Johnson pick to a "database error."
Additionally, just Thursday Mother Jones reported on a Trump delegate from Tennessee who said U.S. leaders who violate the Constitution may have to be "killed."
Via direct messages, Stop Trump PAC described itself as "a conservative grassroots effort to save the movement of Lincoln & Reagan from what would be total destruction under a Donald Trump presidency."
The Stop Trump feed also lays into Clinton as a bad choice for president:
The person responding to the messages would not supply his or her name and said the group is not officially registered as a PAC with the Federal Election Commission. The website associated with the Twitter feed also does not identify the organizers.
"To avoid intimidation & harassment (which we are already facing daily) we can't go public at this point," one message said in response to a request for a name.
A Trump spokeswoman did not respond to multiple requests for a comment. The Clinton campaign and the head of the Alaska GOP also had no immediate comment.