Powerful Video Shows the Staggering Fear Black Mothers Have for Their Children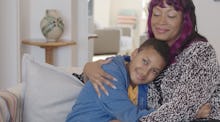 "If you type in the phrase 'Black mothers are' in Google, the results are upsetting: Black mothers are abusive, the worst, mean, single." 
That's according to Anthonia Akitunde, the founder of Mater Mea, a platform for sharing stories of black motherhood — especially the narratives that don't often make it into mainstream media.
Studies have shown that black boys are perceived as being older than they actually are — and, in some American public schools, black children are punished at a disproportional rate compared with their white peers.
So as a black mother in 2016, how do you reconcile raising children in a world stacked against them?
"My son looks a lot like Tamir Rice, so there was definitely that connection there." — Feminista Jones
Mater Mea produced a video called "These Are Our Children" to tell their stories. The video, made by Anthonia Akitunde and Sekiya Dorsett, features four black mothers: Yolanda Sangweni, Feminista Jones, Nasozi Kakembo, and Ibi Zoboi. 
They discuss their fears and hopes as they raise black children in America, and how police violence against black children has affected their families. 
"At 7 years old, he was articulating his fears of being a black child being killed by the police," Jones said of her son.
"And this is someone who, when he was 4 or 5, would high-five police officers and say 'Mommy look, we're okay, the police are here!'"
"I think these ideas are born from the prevailing welfare mom and Angry Black women stereotypes that the country doesn't seem to want to let go of, even though there's evidence to the contrary anywhere you look."
The "These Are Our Children" project was a video meant to address similarly negative public perceptions of black children, and for black mothers to share their fears as well as their hopes.
As for what their children want? One wants to an engineer, one wants to be a karate master and one wants to be an actress.
"I want our children to know that they matter, and their dreams matter," Sangweni says in the video, "and, as Lupita Nyong'o said so eloquently, their dreams are valid."
See the whole video below: