Why Brands Shouldn't Just Focus on the Rainbow During LGBTQ Pride — But the Cause Itself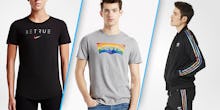 Over the next few weeks, you may notice rainbows are everywhere: on shoes, on T-shirts, on flags, wrapped around lamp posts and painted on sidewalks. This is the season in which cities across the United States and the world celebrate LGBTQ pride — and for participants, the rainbow holds a more special meaning. 
In the retail world, shoe companies over the past few years have been known to throw a little bit of rainbow splatter on their signature kicks. Clothing companies make lines in honor of heroes of the gay rights movement, like Levi's is doing for Harvey Milk. Plenty of other retailers geared toward young people, like Urban Outfitters, are showing their support, but there's much more than just rainbows to talk about. 
Read more: The NBA Just Took Its Boldest Stand Yet Against North Carolina's Anti-LGBT Law
While putting a bunch of rainbows on T-shirts or shoes or leggings shows support, it's not technically helping people in the LGBTQ communities. To do that, the collection has to look past the rainbow and look toward some sort of charitable contribution that can directly affect the communities. After all, visibility is only a fraction of the way in which we can impact change. 
So far, sneaker companies have been most keen to this fact.
Nike, for instance, recently launched its Be True collection, which has T-shirts, leggings and sneakers emblazoned with either a rainbow pattern or a pink triangle, which is a symbol that was used in Nazi concentration camps to identify gay individuals, but is now a symbol of pride.
A portion of proceeds from the sale of Be True garments will go to Nike's own LGBT Sports Coalition, which is "dedicated to promoting diversity, inclusion and nondiscrimination in sports," according to a GLAAD post from 2015.
Rather than being a company that, for instance, creates a rainbow Oreo meme as a sign of support for Pride Month, Nike has taken things one step further and ensured that it's not just a company that supports the LGBTQ communities visually, but offers the chance for its consumers to feel like they're making a difference. 
Adidas has also made the effort, launching its own Pride Pack, with an array of clothing and shoes with rainbow-splatter paint on them. Similarly to Nike, Adidas is contributing proceeds from the line to a charity: the Rainbow Laces Campaign, which advocates for LGBTQ acceptance in sports in the U.K. Although, Adidas' partnership with the charity this year is a bit vague; an Adidas spokesperson said via email the company is "working closely with and financially contributing" to the campaign.
"Our aim when launching this collection is to create a product collection that embraces Diversity in its entirety," Adidas Group's global head of LGBT networks, Johanne Donath, told Racked. "While the collection is created by the Adidas LGBT network across several location within the company the message is that we embrace all sorts of diversity. The collection is a vehicle for all consumers to express a statement of support." 
Other than sneaker brands, Levi's has also stepped up in launching its third Pride Collection and making the effort to ensure all garments are gender neutral, with denim jackets, T-shirts and bandanas. Additionally, all the garments are an ode to Harvey Milk, who was a politician and a gay activist who was assassinated in 1978. 
Rather than making clothing that is vaguely in support of gay rights, Levi's is ensuring that not only do people acknowledge the brand as one in full support of the gay community, but also a company that's attempting to shine a light on a figure that many outside the gay rights movement may not have heard of yet. Many of the items in the line feature Milk's quotes, like, "Hope will never be silent." Much like the sneaker brands, some proceeds from the line will benefit the Harvey Milk Foundation. 
But Adidas, Nike and Levi's are rarities when it comes to pride collections. Converse, on the other hand, which Mic has reached out to, doesn't explicitly state any sort of charitable aspect to its own Pride Collection on its website, although they do have an extensive array of new merchandise and sneakers emblazoned with rainbow patterns.
If they don't have a contribution policy set up, this would be an instance of a company appearing to embrace equality for its own image's sake, yet not really making any real difference. The same goes for high-end design house Gucci, which recently released a pair of rainbow platforms during its 2017 Resort runway hosted in Westminster Abbey in London. 
It comes off as the act of a company seeing an opportunity to profit from the allusion to equality, yet really not making any substantial difference or contribution to the good of the community. It's using the season to attract more LGBTQ customers or allies, and little else. 
In return, the brands do get ample love from LGBTQ media outlets — such as Out and NewNowNext — that are quick to celebrate the collections without analyzing why, exactly, the bottom of some Converse sneakers now have rainbows on them. 
And the commodification of LGBTQ pride is a significant matter, as we are currently in an age when the threat of violence against LGBTQ individuals is a constant issue, with a record number of reported homicides against LGBTQ individuals reaching a record high in 2015. Beyond just marketably visual signs of unity, many LGBTQ individuals across the country and world still need aid in the form of money or support for their communities, an area in which the charities that Nike and Adidas are contributing to can make a difference. 
An alternative way for companies to help LGBTQ communities this time of year would be to focus their efforts beyond just charities and toward people themselves, showing support and unity by hiring models like Hari Nef, who is transgender; or Shaun Ross, who is gay; or any LGBTQ person at all to rep their brands and offer people like them a platform. Such a platform would do far more for visibility than, say, a rainbow flag. 
The commodification of LGBTQ pride is a significant matter, as we are currently in an age when the threat of violence against LGBTQ individuals is a constant issue.
Additionally, what's particularly interesting about these campaigns is the full embrace of the rainbow flag paired with the lack of embrace for the flag typically associated with transgender pride, which is blue, white and pink. With women like Laverne Cox and Janet Mock as leading voices of the transgender rights movement, and the visceral reaction to North Carolina's legislation over public-bathroom usage and a spike in violent acts against transgender individuals, one would think that at least one company would see 2016 as an opportune year to show its support for this movement. But it seems no company is ready to specifically embrace the transgender community just yet.
"I would say that 2014 was a watershed moment for visibility, but the record unemployment rates, homicide rates and discrimination that we experience, that has not changed," Laverne Cox told Time magazine. "So we need more of what's happening in the media in terms of visibility to affect policies and how we treat transgender folks."
Other than clothing companies, food companies will no doubt begin to embrace the rainbow, with Dunkin Donuts already selling a rainbow donut (which does not immediately profit the LGBTQ community). In contrast, Doritos launched special rainbow chips in 2015 that directly supported the It Gets Better Project. Surely, on social media this year, some companies will pounce to throw their names behind "the cause" — but with the LGBTQ rights movement slowly moving towards equality (in just a few states) the rainbow really isn't enough. 
The movement toward equal rights for LGBTQ people has experienced a few major wins within the past few years in America: President Barack Obama signed an executive order to protect LGBTQ peoples from workplace discrimination, and the Supreme Court ruled that same-sex marriage is a right, to name two. However, those wins are still paired with massive setbacks in the form of anti-LGBTQ legislation like North Carolina's HB2. 
Thus it's important for companies to not just show their support for LGBTQ communities by adding a few rainbow embellishments to their catalog, but through donations and community outreach. That's how you actually make a difference.