Avocado Ice Cream Is the Answer to Your Almost-Too-Ripe Avocado Prayers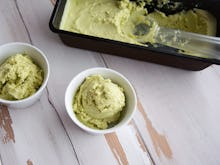 Avocados are creamy and delicious, and they tend to be more wallet-friendly when bought in bulk. 
It's no secret that avocados are a truly fickle fruit, remaining unripe for days until they suddenly reach peak-ripeness and need to be eaten immediately. It's not the worst problem to have, but there's only so much avocado toast or guacamole one can consume before relinquishing the extra avocado to the trash. But there's another way to use up a glut of ripe avocado that's almost as easy as making avocado toast. Say hello to avocado ice cream. 
Avocados are great in ice cream due to their high fat content, which results in a rich and silky end product. There are a number of methods for making avocado ice cream. Some blend the fruit into a standard dairy- and sugar-filled ice cream base, allowing the mixture sit in an ice cream maker to firm up. This method might make for a great sundae, but it's not exactly healthier than a pint of Ben & Jerry's. 
If you're after a healthier approach, this vegan recipe from Bianca Haun, the blogger behind Elephantastic Vegan makes a version of avocado ice cream that eschews dairy and refined sugar, but still remains creamy. 
In this recipe, whipped coconut cream, avocado, lemon juice and natural sweetener — such as maple, agave or brown rice syrup — are mixed together and placed in the freezer. No ice cream maker required, and the end result is scoopable. Better yet, this version contains less sugar than ordinary ice cream, and the fact that it is dairy-free makes it a great and accommodating dessert for any kind of party guest. 
Even football star and Donald Trump bestie Tom Brady is a fan. He included a recipe for a healthy avocado ice cream in his new $200 health manifesto TB12 Nutrition Manual. (Is this ice cream the secret to Gisele's flawless skin?!)
Lastly, if you were wondering, the ice cream does not taste like guacamole. As Haun says, the dessert isn't too sweet and only has a mild avocado flavor, but all of the creaminess.  
Read more: