Legendary Boxer Muhammad Ali Dead at 74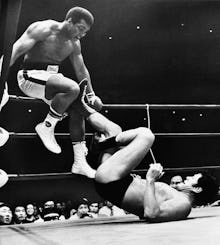 Muhammad Ali, regarded by many as the greatest boxing champion of all time, is dead at 74 years old, according to NBC News.
CNN previously reported the three-time world heavyweight boxing champion was hospitalized on Thursday for a "respiratory issue."
"After a 32-year battle with Parkinson's disease, Muhammad Ali has passed away at the age of 74," family spokesman Bob Gunnell told NBC News. "The three-time world heavyweight champion boxer died this evening."
In a statement issued by her business manager, Ali's daughter, professional boxer Laila Ali, said she "truly appreciates the outpouring of love for her family, as she spends quality time with her dad," according to CNN.
Ali had chronic health issues in recent months. CNN reported the boxing legend "was hospitalized in January 2015 with a urinary tract infection," and was also admitted in a separate incident in December 2014 with pneumonia.
Ali, whose birth name was Cassius Clay, was born in Kentucky in 1942. He was known for his philanthropic activism, which included work as a social activist, a refusal to fight in the Vietnam War and an appointment as the United Nations messenger of peace in 1998, for which he hand-delivered food and supplies to war-torn areas, International Business Times reported in 2012.
This story is breaking and will be updated when more information is available.
June 4, 2016, 1:37 a.m. Eastern: This story has been updated.