Caitlyn Jenner Just Called Muhammad Ali the Greatest of All Time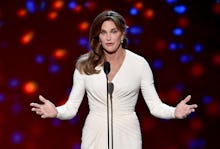 After news broke late on Friday night that boxing legend and Olympic gold medalist Muhammad Ali had died, celebrities began pouring out their respect for the athlete on Twitter. 
One of the first people to send a tweet appreciating Ali was transgender icon and fellow Olympic athlete Cailtyn Jenner. 
"Ali, you were generous every time I met you," Jenner wrote. "Thank you for all you did for so many. Your memory will live on forever." She followed the kind words with the hashtags #Olympicgold and #GOAT — or "greatest of all time." 
Both Jenner and Ali were Olympic gold medalists — Jenner in 1976 and Ali in 1960 — who became icons in the general public. 
The pair met several times due to their shared Olympic gold medalist status. Prior to Jenner's transition, one such meeting in 1980 was immortalized in a photo of Jenner giving Ali a playful jab at the third annual Muhammad Ali invitational indoor track meet, which Jenner hosted on television. 
Being called the "greatest of all time" by Jenner is no small honor: After Jenner's Olympic gold win, many called her the "world's greatest athlete." 
Hopefully it's not lost on anyone that two of America's greatest gold-medal-winning athletes are a transgender person and a Muslim, two communities who continue to endure an overwhelming amount of hate, stigma and violence.