What to Know About this Year's Miss USA — And Why It Will Be Different From Any Other Year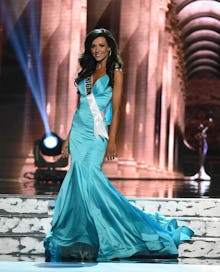 On June 5, fifty two women will take the stage to compete in the Miss USA beauty pageant — but only one will walk away with the competition's top crown.
The stakes are high: whoever wins in Las Vegas on Sunday will advance to the international Miss Universe pageant, where they will represent the United States.
Here's everything you need to know about the 64-year old pageant, which airs Sunday night at 7/6c on FOX.
You can help decide the winner.
You can cast your vote for your favorite contestant in three different ways anytime between 12 p.m. EST on Tuesday, May 31 to 9 p.m. EST. 
1. Miss U App
Download the pageant's official app from via iTunes or Google Play and vote up to ten times a day for your pick.
2. Website
Head over to Miss USA's official website to cast another 10 votes per day via desktop.
3. Twitter
If your Twitter account is public, you can also vote by tweeting or retweeting with the official #MissUSA hashtag, paired with the hashtag specific to the contestant of your choosing.
What does it actually mean to take home the crown?
After all an exhausting night spent competing and strutting around in evening gowns, what is the real prize that the pageant's contestants stand to potentially walk away with?
In addition to representing the United States in the Miss Universe pageant later this year, the winning woman will presumably enjoy a considerable slice of the limelight during her tenure as Miss USA. 
Last year's reigning queen, Olivia Jordan, went on to become a vocal mouthpiece for Children of the Night, an organization devoted to removing children from prostitution in the United States. She also lobbied on Capitol Hill for funding for Alzheimer's Disease research, and had a cameo appearance in Hot Tub Time Machine 2.
This year, for the first time in its history, Miss USA will feature a 52nd contestant.
The pageant conducted an unprecedented nationwide search for a 52nd contestant online, and Alexandra Miller was selected as the winner. Miller hails from Oklahome — the home state of last year's winner, Olivia Jordan — so she'll have big shoes to fill during Sunday night's contest.
Read more: How a Natural Hair Beauty Pageant Morphed Into a Platform for Female Entrepreneurs