20 Years Ago, Rocker Prince Called Muhammad Ali His Hero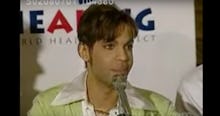 Less than two months after losing one of its best black musicians in Prince, the world has lost one of its best black athletes in Muhammad Ali. The clip below shows the great admiration they had for each other.
On June 25, 1997, Prince shared his love for Ali with the world at a press conference announcing a benefit concert called the "World Healing Honors" that would launch the Muhammad Ali World Healing Project. 
"Muhammad's my hero," the late rock star said. "He has been since I was a child."
Prince indicated that, when he got the call, he was ready to work with Ali — no matter what the project was. 
Prince's friend and lawyer, Londell McMillan, called him to say that Ali wanted to work with him, and before McMillan had even given him any details about the project, Prince was on board.
"I said 'yes.' I didn't let him finish," Prince said. "He could've said 'mow the lawn' and I'd have been down with it." 
Aside from climbing to the top of their respective fields while also being unapologetically black, Prince and Ali both shared a deep sense of justice. 
While Prince will be remembered for his musical talent, he was also a stalwart activist who supported the Black Lives Matter movement among many other causes, and Muhammad Ali was known for his outspokenness regarding what it means to be black in America.