Donald Trump Blames "Thugs" and "Illegals" for Violence at His Rallies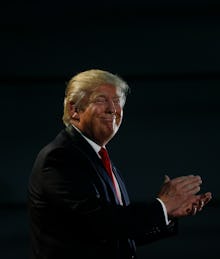 Presumptive Republican presidential nominee Donald Trump, hit by growing protests at campaign rallies around the country over his bigoted rhetoric, escalated his response on Saturday by claiming recent disturbances at a San Jose rally were orchestrated by "thugs" and "illegals".
In a subsequent tweet, Trump added, "The thugs were lucky supporters remained peaceful!" which isn't surprising given the candidate's less-than-condemnatory response to the regular violence which has emerged at his rallies.
On Thursday, the Mercury News reported, the scene outside a Trump rally turned into a "melee" as an angry crowd of protesters turned on another crowd of Trump supporters. Eventually, San Jose authorities arrested four people.
There were several incidents in which protesters were caught on video assaulting Trump's supporters. In one video posted online, a man who said he was holding a Trump sign was hit with an object, leaving blood splattered down the side of his shirt.
In another, a man punched an alleged Trump supporter in the face.
In May, violence also broke out at a Trump event in Albuquerque.
On Friday, Democratic nominee Hillary Clinton told CNN's Jake Tapper on the Lead that while she condemned violence, Trump has "created an environment in which it seemed to be acceptable for someone running for president to be inciting violence, to be encouraging his supporters. Now we're seeing people who were against him responding in kind."
"It should all stop," she added. "It is not acceptable."