There Is a Secret App You Can Use to Change the Colors of the New York City Skyline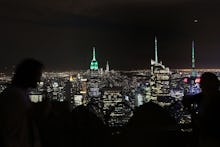 A BuzzFeed staffer named David Mack tweeted Saturday night he was with someone who was changing the colors of the New York City skyline with an app on her phone, picking and choosing the color of the lights on the Bank of America Tower. Sound like a hoax? It's not.
The app Mack is likely seeing is called Spireworks, which was created for the Durst Organization by Douglas Durst's son-in-law, Mark Domino. The app lets you control the color of the lights on 1 Bryant Park and 4 Times Square, two buildings owned by the Durst Organization — that'd be the Bank of America Tower and the former Condé Nast building.
On the Spireworks site, it calls itself "the only building scale interactive lighting installation in New York City."
Mack calls it a "secret" app, but that's only partly true. The Spireworks app requires an invitation from another user to join, making it a rare commodity in a diffuse, unidentified network of app users.
According to the New York Daily News, the project has been in closed beta testing since 2014; at one point, a street performer was using the app as part of his routine. We've reached out to Spireworks, and have not yet received comment.
After two years, it looks like the app is still around, but there are no recent plans to take the project out of testing. This makes perfect sense, as opening up public downloads for an app that allows you to control the look of a skyscraper could turn the New York City skyline into a manic rave.
If you want to download it, you'll just have to find someone who already has.