'Hamilton' Star Leslie Odom Jr. Isn't Convinced Diversity on Broadway Is Here to Stay Yet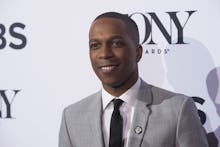 2015 may have been a remarkably diverse year for Broadway casting, but one of the biggest black stage stars isn't all that impressed yet.
In a recent Hollywood Reporter roundtable on the state of diversity on Broadway, Hamilton star Leslie Odom Jr., who plays Aaron Burr, lamented on the lack of roles available for black actors in the country. In Odom's view, the industry needs to do much more to ensure 2015 was more than transitory.
"I am not so fast to praise. What I think we're having is a rare moment," Odom said of Hamilton's success. "What we really need to pay attention to is the next two seasons."
Here's the most biting portion of the video, in which Odom describes the sparse options available for even a black star like him, as transcribed by Vulture:
Oftentimes, from my career, I've watched my white counterparts and imagine, if you would, if a white actor was having a similar situation as I'm having right now in this show, the kind of success of this show, there might be three or four offers a week for the next shows you're going to do. There are no shows for me to do. There's just no roles. You know, especially when you look at an Aaron Burr — you look at the complexity, the humanity in this part.
"Colorblind casting is great," he said. "But you know what's better than colorblind casting? Roles that are actually written about you. Roles that are actually written about your experience."
Skepticism might be in order. According to the New York Times, while 2015 was a diverse year onstage, just a year prior during the season beginning in 2014, "only two of 35 plays and musicals that opened last season focused on the experiences of nonwhite Americans — Disgraced and Holler If Ya Hear Me — and of the eight winners of Tony awards for acting, only one was nonwhite — Ruthie Ann Miles of The King and I."
As noted recently by NPR's Gene Demby, there is also an imbalance on the audience side too. Demby wrote "according to the Broadway League, the trade association for the Broadway theater industry, nearly 8 in 10 people who saw Broadway shows in 2014-2015 were white and in their mid-40s."