Father of Brock Turner Defends His Son in a Disturbing Way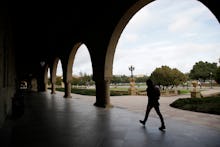 Brock Turner, the former Stanford University swimmer and felon who was sentenced to just six months in county jail and three years' probation to widespread public outrage last week, has a father who isn't helping his case in the court of public opinion.
Journalist Lauren Duca posted to Twitter an image of a statement Turner's father, Dan Turner, provided to Santa Clara County Judge Aaron Pesky asking for leniency for his son. According to the father, the real issues at stake in Turner's conviction — for sexually assaulting an unconscious woman behind a dumpster on campus — are "the dangers of alcohol consumption and sexual promiscuity" and "[breaking] the cycle of binge drinking and its unfortunate results." Prison would be "a steep price to pay for 20 minutes of action out of his 20-plus years of life," the eldest Turner wrote.
That's right, "20 minutes of action."
It's not just a crass, one-off note from a person unconnected with the case. Throughout his trial, Brock Turner blamed "campus drinking culture" and "the sexual promiscuity that goes along with that" as responsible for the chain of events which led to the assault.
The woman Brock Turner victimized has already shared her thoughts on that particular line of defense in an open letter.
"You realize, having a drinking problem is different than drinking and then forcefully trying to have sex with someone?" she wrote. "Show men how to respect women, not how to drink less."
"Where does promiscuity even come into play?" she added. "I don't see headlines that read, 'Brock Turner, guilty of drinking too much and the sexual promiscuity that goes along with that.'"
"I fully respected his right to a trial, but even after 12 jurors unanimously convicted him guilty of three felonies, all he has admitted to doing is ingesting alcohol," she concluded. "Someone who cannot take full accountability for his actions does not deserve a mitigating sentence. It is deeply offensive that he would try and dilute rape with a suggestion of 'promiscuity.' By definition rape is not the absence of promiscuity, rape is the absence of consent, and it perturbs me deeply that he can't even see that distinction."
Correction: June 7, 2016