South Korea Alerting Crowded Trains to Presence of Pregnant Women With Flashy Light Shows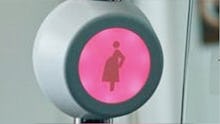 Sound the alarm — pregnant woman aboard bus. This a thing that happens in Busan, South Korea, Mashable reported, in order to ensure that women who are with child get seats on public transportation. It's all part of the Pink Light Campaign on trial on select transit lines within the city.
"Consideration for pregnant women should prevail and they should be able to use public transportation more easily and conveniently with this policy," Busan Mayor Suh Byung-soo, said, according to the BBC. "Women should be able to use city facilities easily even when they are expecting.
During the five-day test run, 500 expecting mothers attached Bluetooth-powered beacons to the outsides of their bags. Those sensors set a pink light blinking when the women approached rude passengers obliviously occupying priority seating, drawing the distracted commuters' eyes away from their smartphones and prompting them to make way for ladies to rest unwieldy bellies.
According to the BBC, the Pink Light Campaign could help passengers avoid those awkward moments when they stand for women they judge to be pregnant but who aren't actually pregnant. Some Korean women think the beacons will make navigating the overcrowded public transportation system easier and more comfortable, and officials hope the campaign might help buoy a "stubbornly low birthrate." Pink Light is in its infancy, so it's not yet clear whether Busan can expect the sensors to achieve that lofty goal.
For now, what its women can expect, at least when they're expecting, is a flashy light show to herald their arrival on a rising number of public transportation lines. Embarrassing or sort of fun?
Read more: Pregnant Woman Says She Was Fired After Being Told "Pregnancy Is Not Part of the Uniform"