J.K. Rowling Calls Out "Bunch Of Racists" For Inability to Accept Black Hermione Granger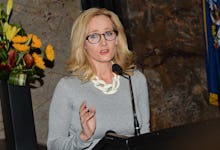 British Harry Potter creator J.K. Rowling is just fine with the character of Hermione Granger, played by Emma Watson in the series' $7.7 billion film franchise, being played by black actress Noma Dumezweni in her upcoming play Harry Potter and the Cursed Child.
In a recent interview with the Observer, Rowling said she knew a "bunch of racists" would get angry at the decision, but said their opinions simply weren't worth listening to.
"With my experience of social media, I thought that idiots were going to idiot," Rowling told the Observer. "But what can you say? That's the way the world is. Noma was chosen because she was the best actress for the job."
"I had a bunch of racists telling me that because Hermione 'turned white' – that is, lost color from her face after a shock – that she must be a white woman, which I have a great deal of difficulty with," Rowling added. "But I decided not to get too agitated about it and simply state quite firmly that Hermione can be a black woman with my absolute blessing and enthusiasm."
In a post to Twitter last year, the author wrote Hermione's character has "brown eyes, frizzy hair and [is] very clever. White skin was never specified. Rowling loves black Hermione."
She's also retweeted fan art featuring a black Hermione as well as commentary from Matthew Lewis, who played Neville Longbottom in the movies:
"I am not as Twitter-familiar as [Rowling] and [playwright Jack Thorne], so I hadn't encountered its dark side, which is just awful," the play's director John Tiffany told the Observer. "But what shocked me was the way people couldn't visualize a non-white person as the hero of a story. It's therefore brilliant that this has happened."