Queer YouTube Personalities Explain Why They "Love Being Gay" for Pride Month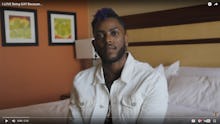 YouTube is well known for its wide array of LGBTQ talent, so it's fitting some of those personalities would sit down to record a video for Pride Month explaining why they love being gay to advance the cause of LGBTQ pride.
The Davey Wavey-organized group of YouTubers includes personalities like Nicholas Laws and Arielle Scarcella, reported the Huffington Post.
"Our queerness makes us different," Wavey told the Post. "It makes us stick out. And when you're young, being different doesn't always feel good. As a young gay boy, I remember hating my gayness; I wanted to fit in and be like everyone else."
Wavey continued, "As I've gotten older, I've come to realize that being queer is a tremendous gift that has filled my life with incredible experience, wonderful people and a journey of self exploration and discovery that I'd never have otherwise."
"The best part about being gay is being able to foster a sense of humor, to battle against being bullied and all these terrible legislations," Nicola Foti, who runs the YouTube page soundlyawake, told audiences in the video.
"We're in an age where there's so many changes, there's such a huge political march going on for this community, and it's really great to be part of that change and seeing that," Stephanie Frosch, known as ElloSteph on the site, added.
According to the Post, the YouTube personalities in the video have, collectively, almost 5 million subscribers.