President Obama Reiterates Commitment to Ending HIV/AIDS by 2030 in Commemorative Address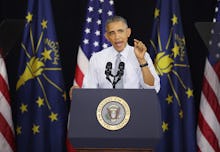 President Barack Obama made a statement Sunday in commemoration of the first diagnosed AIDS case in the United States, news of which broke 35 years ago on this day. Obama reiterated his commitment to ending the global HIV/AIDS epidemic by 2030. He discussed progress made over the past three decades, and hurdles still ahead.
"We've learned that stigma and silence don't just fuel ignorance, they foster transmission and give life to a plague," he said. "We've seen that testing, treatment, education and acceptance can not only save and extend lives, but fight the discrimination that halted progress for too long. And we've reaffirmed that most American of ideas — that ordinary citizens can speak out, band ourselves together like a breathtaking quilt and change the course of our communities and our nation for the better."
More than 1.2 million people in the United States live with HIV, and nearly 13% of them don't know they're infected. In 2010, Obama released the National HIV/AIDS Strategy to reduce the number of new cases diagnosed annually, improve the quality of and access to health care for HIV/AIDS patients and reduce "HIV-related health disparities." On World AIDS Day 2015, he partnered with countries around the world in agreement to end HIV/AIDS by 2030, bolstering the President's Emergency Plan for AIDS Relief.
"While there is more work to do — the economically disadvantaged; gay and bisexual men, especially those who are young and black; women of color; and transgender women all continue to face huge disparities — I'm confident that if we build upon the steps we've taken, we can finish the job," Obama said. "Let's rededicate ourselves to ending this epidemic once and for all.