'Game of Thrones' Introduces Lyanna Mormont — The Most Badass 10-Year-Old Heroine Ever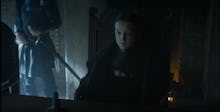 Game of Thrones has no shortage of powerful female characters plotting across the realm. But perhaps none of them hold the same ferocity as Lyanna Mormont (Bella Ramsey), the lady in charge of House Mormont, who was introduced on-screen in the series on Sunday's episode. 
Despite being 10 years old, Lyanna has no qualms speaking her mind to Jon Snow (Kit Harington) and Sansa Stark (Sophie Turner), who have come to ask for her house's fealty in the battle against Ramsay Bolton (Iwan Rheon). She's quick to point out that Jon is a bastard, and she considers Sansa both a Bolton and a Lannister from her two previous marriages. Essentially, she wants to be loyal to House Stark, but doesn't see that house's members being presented in front of her. 
This unrelenting snark won Lady Mormont some huge admirers on Twitter who wouldn't mind seeing more of her in the series, slinging sass at anyone who stands in her way. Maybe even a presidential bid — or the Westerosi equivalent. 
While this is the first time viewers have seen Lyanna onscreen, her presence has been felt in the show before. In season five, when Stannis Baratheon (Stephen Dillane) is at Castle Black trying to rally Northern houses to join his cause, he shows Jon the response he gets from the head of House Mormont; a simple, but effective letter that's a resounding no. 
"Bear Island knows no king but the King in the North, whose name is Stark." 
Thankfully, with the help of Ser Davos (Liam Cunningham), Lyanna offers to help Sansa and Jon by providing 62 men. Though, according to her, "every man from Bear Island fights with the strength of 10 mainlanders."
"If they're as ferocious as their lady, the Boltons are doomed," Davos replies. We couldn't agree more. 
Read more: 'Game of Thrones' Actor Emilia Clarke on Empowering Nude Shot: "This Is All Me"