Kylie Jenner's Twitter Hacked, Troll Sends Vile Tweets About Justin Bieber and Tyga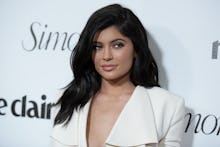 Kylie Jenner's Twitter was involved in the latest string of hacks targeting celebrities with massive social media followings.  
As with Katy Perry's hack and others before her, vile statements were tweeted from Jenner's account. Of course, the tweets were quickly removed from her profile and Jenner seems to have since regained control of her account. Screenshots collected by eagle-eyed Twitter users, however, paint a picture of the grotesque rhetoric the hacker was using: Jenner's page was filled with garbage to the tune of, "I want ur cock @JustinBieber," "I love veri's large cock" and "@Tyga's dick bends like a banana."
The 18-year-old has returned to promoting her line of cosmetics, retweeting fans using her lipstick colors and others talking about her family's reality show, Keeping Up With the Kardashians. "Mmm, so my Twitter was hacked," Jenner said in a Snapchat video, while eating a white chocolate pretzel. "And I don't really care. I'm just letting them have fun."
@Lolsw4y, the user who Jenner's account retweeted at the start of the bizarre stream of consciousness, had their profile deleted from the social platform as well. 
It's probably not the end for the celebrity hacker, however. When Perry was hacked last year, her account linked to another profile: @Sw4ylol. A song was also released on SoundCloud in conjunction with that hack, though it wasn't clear what relation the singer or song had with the artist.
Of course, Twitter was full of hot takes immediately following the breach of security:
Read more: Katy Perry's Twitter Was Hacked — And the Hacker Leaked an Alleged New Song