Cops Talked a Man Out of Attempting Suicide With the Help of Tacos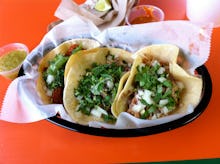 A man intended to end his life by jumping off a bridge in Mexico City, but tacos (and non-edible guidance) helped save his life. 
Feeling defeated and lonely, the unnamed young man was about to jump off a bridge on Ticomán and Insurgentes Norte last Tuesday morning, Remezcla reported. 
Police officers found him slightly drunk and chatted with him for a few minutes, convincing him to step off the bridge ledge. After offering to treat him to tacos, the man responded, "Yes, tacos sound good."  
They indulged in several tacos at the taco stand at the Gustavo A. Madero, SDP Noticias reported. The police later took him to a mental health facility. 
"We tried to convince him that life is beautiful and that he doesn't have to end it like that," 
Watch the full Spanish news segment via the Hechos Meridiano Facebook post below: 
Compared to the rest of the world, Mexico's suicide rate is on the low side, but have been rising slightly. Mexico's suicide rate rose from 4.4 per 100,000 people to 5, according to 2005 data published by the Washington Post and Telesur. (The United States has a suicide rate of 10 per 100,000 people.) One in 10 suicide attempts in Mexico results in death, according to Telesur. 
If someone shows serious intent to harm themselves or commit suicide, experts recommend asking simple, non-judgmental questions to give them the opportunity to safely express pent-up negative emotions. You should not leave them alone — seek help immediately. 
And if this man's story is any indication, ordering tacos might not hurt, either. 
Editor's note: For information about suicide prevention or to speak with someone confidentially, contact the National Suicide Prevention Lifeline at 1 (800) 273-8255 or the Crisis Text Line at 741-741. Both provide free, anonymous support 24 hours a day, seven days a week.