Maisie Williams Calls Out Website for Focusing on Her Outfit and Not Her Fundraising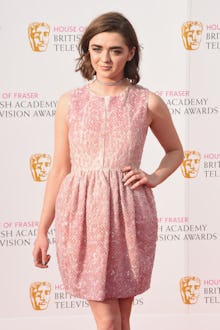 It's not that Games of Thrones actress Maisie Williams doesn't appreciate a compliment, just not when it comes to praising her ability to pull off a braless dress rather than recognizing a far greater accomplishment — like, say, her raising thousands of dollars for charity.
Earlier this morning, fresh off of last night's gut-busting GoT episode, Williams issued a tweet that gracefully offered an alternate headline to the Daily Mail, which over the weekend published an article with the longwinded title "Unveiled: Game of Thrones' Maisie Williams goes braless in sheer lace dress and quirky headpiece at charity masquerade ball."
Read more: Maisie Williams' Thoughts on Feminism Show She Should Rule Westeros
Williams' correction: "Game of Thrones actor, Maisie Williams, helps raise thousands at a Summer Masquerade Ball for @NSPCC"
She then added two critical emojis for good measure: 
It's not until 10 paragraphs into the Daily Mail article — after asides about her "daring monochrome-themed dress," "gothic black manicure" and "trademark bold eyebrows" — that they point out the very reason Williams got dressed up in the first place: to attend the National Society for the Prevention of Cruelty to Children (NSPCC)'s Summer Masquerade Ball, a charity for which Williams has been active in helping raising funds.
The dress in question?
Hardly Rihanna at the 2014 CFDA Awards.
Many were quick to call out the Daily Mail not only for ignoring Williams' purpose for being there in the first place, but for choosing to make it all about her chest:
Some even saw the headline as blatantly sexist:
Going braless for a summertime event is hardly, to borrow a term from Miranda Priestly, groundbreaking; and it's certainly nothing worth dedicating an entire article to. Bravo to Williams for speaking up for herself in a clever way, and in doing so, shifting the conversation away from the notion that a woman in a braless dress is somehow news.