Alicia Keys Launches #NoMakeup Movement — But Not Everyone Is Thrilled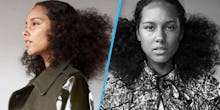 With her new hashtag campaign #NoMakeup, musician Alicia Keys has proudly stopped smearing on foundation and wiping on mascara — but not everyone is impressed.
"To fit in or be thought of as beautiful, you have to cover up to be a bit closer to perfect," she wrote in an essay for Lenny Letter, which sparked her decision. 
"Every time I left the house, I would be worried if I didn't put on makeup: What if someone wanted a picture?" she wrote. "What if they POSTED it??? These were the insecure, superficial, but honest thoughts I was thinking. And all of it, one way or another, was based too much on what other people thought of me." 
In order to regain her confidence, Keys stopped wearing makeup entirely — including during photoshoots and performances.
Since Keys' essay launched last week, people have stepped forward saying that Keys' support of other women ditching makeup is influenced by how beautiful she looks without it, with flawless skin and not a single wrinkle.
Not everyone in this world, however, looks like Alicia Keys, and some women don't think she realizes that: 
It's true that Keys is a woman who is lucky enough to feel comfortable without makeup, but some women simply don't feel included in this campaign at all. 
To them, there's nothing wrong with makeup in the first place, so making not wearing makeup an achievement is yet another standard to live up to. Given how many beauty standards women are subject to every day as is, this is just another one that we really don't want to deal with. 
What's the shame in wearing makeup after all, if you're the one who decides you want to do it? There is nothing inherently awful or damaging about a woman making that decision for herself, yet now the idea of wearing no makeup at all is being praised. 
The campaign is similar to one of the beauty industry's most pervasive trends: No-makeup makeup. And the issue there is that, to achieve this trend, women are using lots and lots of makeup in order to look "natural" and "fresh-faced" — when to look natural and fresh-faced, you can also just... not wear makeup. It promotes the idea that women should hide the fact that they are wearing makeup because, for some bizarre reason, it's shameful. 
Read more: Here's Why "No-Makeup" Makeup Is the Latest Trend — And Here's Why It's Bullshit
Much like that trend, the #NoMakeup campaign is falling in that sticky area of society telling women yet again what is truly beautiful, and not leaving it up to them to decide for themselves. 
As an alternative, a more empowering movement for Keys' critics would be something like a #DontWearMakeupIfYouDontWantTo movement or a #DoWhatThaFuckYouWant movement, per one Twitter user:
Because, at the end of the day, deciding to wear makeup or to not wear makeup is a deeply personal decision. There is nothing harmful about wearing it, just like there's nothing harmful about not wearing it. But really, that is pretty much what Keys was getting at in her essay. 
Although the standout hashtag #NoMakeup has caused waves on Twitter, Keys' essay was about herself and her own decision to not wear makeup anymore. It's not like Keys ever stated in her essay that makeup is inherently evil. On Twitter, some women are realizing that as well. 
After being professionally photographed for the first time, Keys wrote: "I felt powerful because my initial intentions realized themselves. My desire to listen to myself, to tear down the walls I built over all those years, to be full of purpose, and to be myself! The universe was listening to those things I'd promised myself, or maybe I was just finally listening to the universe, but however it goes, that's how this whole #NoMakeup thing began." 
So it's not like Keys is trying to push this idea of what is beautiful and what is not beautiful. What Keys is doing is attempting to normalize a bare face. She can't exactly help that she's stunningly gorgeous, with clear skin and a symmetrical face. All this campaign is doing is putting this idea out there and letting women know that if they're sick of wearing makeup too, and really don't want to, then they shouldn't feel like they have to.
Or, if a person wants to wear it only for special occasions too, there's nothing wrong with that either. Keys is simply offering to be a role model for the woman who doesn't wear makeup, or just really doesn't want to.
Already apparent on her Instagram, Keys looks all the happier because of it.